Lady Vikes head to 1A State volleyball tournament Nov. 3
Originally Published: October 31, 2017 8:35 a.m.
The Lady Vikes head to the 1A State tournament Nov. 3 to face Shonto Prep.
If the Lady Vikes, ranked sixth in the 1A Conference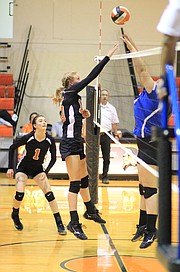 , beat Shonto Prep (10), they move on in the single elimination tournament to face either Anthem Prep (2) or North Phoenix Preparatory Academy (15).
The Lady Vikings are 11-3 in the region and 15-6 in the conference.
Several Lady Vikes finish the regular season as stats leaders. Maddie Olson ranks first in the region with 371 assists. Tori Maebe is fourth with 132 kills, and fourth with 24 blocks. Anna Chaney is fifth wtih 54 serving aces, and Destinee Pennington is third with 291 digs.
The Lady Vikes face the Shonto Prep Grizzlies at 1 p.m. Nov. 3 at North High School in Phoenix.
SUBMIT FEEDBACK
Click Below to:
More like this story