How a wandering farmhand from Wisconsin became an American Legion namesake
PFC John W. Ivens: 1893-1917

Originally Published: October 31, 2017 10:37 a.m.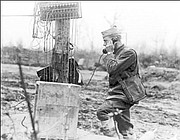 GRAND CANYON, Ariz. — Before he became canyon country's first World War I casualty and an American Legion namesake, John W. Ivens was a wandering farmer, telephone lineman and adventuring companion of the Kolb brothers.
John Ivens was born near Pewaukee, Wisconsin, in 1893. His early life was spent on a farm, although it seems he got the traveling bug and made his way to the Grand Canyon when he was just 18 years old. He worked for Fred Harvey for a time, but left shortly after his arrival, following his wanderlust across the country working on farms and the telephone lines that were then beginning to criss-cross the nation.
It's easy to imagine he had a taste for adventure — five years later, he made his way back to the Grand Canyon, this time working for the famously-adventurous Kolb brothers.
Harvey Butchart, a math teacher at Arizona State College (later Northern Arizona University) who became the first person to hike the full length of the Grand Canyon over a period of 17 years, spoke often with Emery Kolb in his twilight years.
Kolb recalled one of his adventures with Ivens. The two built a canvas boat and hauled it to the river below Bright Angel Trail — no easy feat, since the boat weighed about 100 pounds. Kolb told Butchart the two had taken the boat to Horn Creek Rapid and then hiked out via 91-Mile and Trinity Canyons to the saddle between Shiva Temple and the North Rim. It was on this trip, Kolb said, that he and Ivens first realized there was a route to the top of Shiva Temple, although they didn't stop to ascend.
Butchart would be the first to ascend Shiva Temple in 1957.
Ivens' pioneering treks with the Kolb brothers lasted only a short time, and he turned his face toward even bolder adventures abroad. The War to End All Wars was raging overseas, and Ivens left for Flagstaff to enlist in the Army in September 1916. After being stationed at Fort Riley, Kansas and Camp Kearney in San Diego, California, Ivens volunteered for immediate deployment to the front lines in France. He left April 1, 1917.
Promoted to Private First Class, Ivens was assigned to Company C, second signal field battalion. The signal corps played an integral role in war-time communications. The battalion secured the use of telephone and telegraph stations across the front, ensuring that pilots and troops on the ground were able to communicate with each other.
Ivens' battalion controlled three telephone test stations southwest of Paris, near Coulemelle. On the night of June 17, 1918, German troops deployed a mustard gas attack on the area, including Ivens' station. Perhaps unaware until it was too late, none of the men left their posts, but they were soon overcome by the chemicals.
Chemical warfare changed the face of World War I — literally. Germans pioneered the use of mustard gas in early 1917, and the effects were devastating. Unlike chlorine gas, which was used by the Germans as early as 1915, mustard gas had the ability to kill covertly; it was nearly undetectable unless a company was under direct attack, and it lingered in the environment for several days, even penetrating otherwise shell-proof bunkers.
It was fine enough to penetrate the still-crude gas masks used by troops on the front lines, and the chemical's only warning sign — a strange, faint odor — tricked the nose into believing it had dissipated long before it was safe to approach. There were no ill effects for hours, sometimes days.
And it was potent. One drop of mustard gas, writes military historian Clyde Ward, could cause blisters and burns over a radius of 10 cubic meters. Severe eye, nose, throat and skin irritations were only the first symptoms of the poison. Most casualties of gas attacks died from respiratory complications like pneumonia or bronchial inflammation that ravaged their bodies, and for which doctors operating in field hospitals had no answer. Of the 29.5 million casualties suffered by both sides in World War I, 1.3 million died from exposure to gas.
A week after the attack — June 24, 1917 — John Ivens died from injuries inflicted by the mustard gas, along with four of his fellow signalmen. He was the first Great War casualty from canyon country. He had just turned 24 years old.
Within six years, the American Legion would establish a post named in his honor at Grand Canyon. The John Ivens Post #42 was officially established Jan. 19, 1923. Many well-known Grand Canyon residents were members, including Kolb, John Robert Fix (who attended the Paris Caucus in 1919) and Jack Verkamp. The post was also home to Lillian Catti, an army nurse who became Arizona's first female post commander in 1932.
SUBMIT FEEDBACK
Click Below to:
More like this story