Coconino County Sheriff announces Bret Axlund as new Chief Deputy
Originally Published: October 31, 2017 10:49 a.m.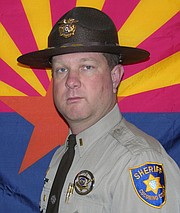 FLAGSTAFF, Ariz. — On Oct. 25, Coconino County Sheriff Jim Driscoll announced Bret Axlund had been selected as Chief Deputy for Coconino County Sheriff's Office (CCSO).
Axlund has been with the sheriff's office since January 1996. He graduated from Northern Arizona University with a degree in Criminal Justice and Business Administration and is a graduate of the Arizona Leadership Program (formerly known as Leadership in Police Organizations). Since 2013, he has served as a lieutenant managing Page District Patrol Operations as well as the Page detention facility. Axlund brings with him multi-faceted and versatile experience in patrol, investigations, search and rescue, detention, community relations, administration and organizational leadership.
In addition to his responsibilities in Page, Axland has served as a Detention Officer the Coconino County facility in Flagstaff. Prior to working for CCSO, he worked for the San Diego Sheriff's Department.
Axlund was a senior boat patrol officer for the Page Boat Patrol Program for over 10 years and has been instrumental in implementing the CCSO dive team, according to CCSO. He currently serves as the Dive Team Coordinator.
"He is very active in community outreach and education programs such as boating safety classes, drug impairment training for education professionals, freshman focus classes, and citizen response to active shooter," CCSO stated in a press release. "He is a certified Arizona POST General Instructor, DRE/HGN Instructor, DITEP Instructor, marine theft instructor, boating education instructor and field training officer. He has helped manage grants for the boat patrol program and for governor's office DUI/OUI programs. He received the 2010 Veterans of Foreign Wars Officer of the Year Award."
Axlund's professionalism and leadership skills are recognized throughout the region.
"He is dedicated to creating and strengthening local, state, federal and tribal partnerships and ensuring effective communications. He has a strong historical understanding of our agency and the ability to seek new and innovative solutions as we advance into a new era of policing. His successes throughout his career have been founded on building and maintaining public trust and confidence. Bret has been a mentor to many and is committed to an organizational culture that supports the growth and development of our employees and our mission of Service to Community," the release stated.
Axlund starts his new duties as chief deputy Nov. 6.
More like this story
SUBMIT FEEDBACK
Click Below to: