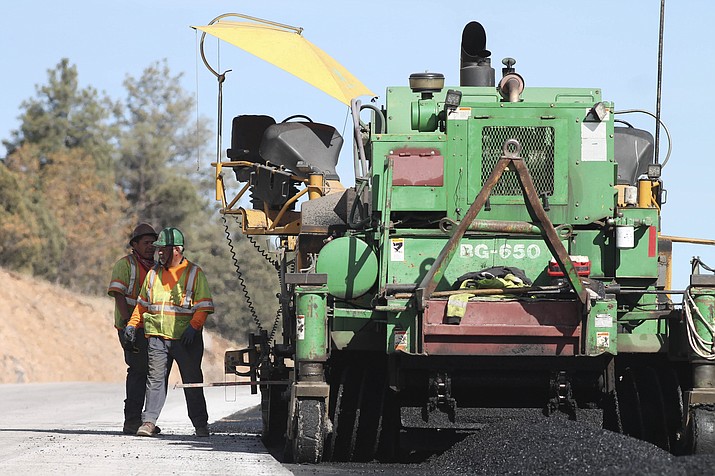 Photo by Loretta Yerian.

Originally Published: October 24, 2017 10:58 a.m.
FANN Construction is nearly finished with a repaving project on I-40 west of Williams and they're proud to say they've re-built the road to withstand extreme weather conditions common to northern Arizona.
Going into the project they knew they would need a little different approach. They needed to reinforce the pavement for extreme temperatures and heavy traffic. They decided to re-pave the road using 14 inches of concrete.
"This (type of paving) is kind of new for up here. It's kind of a test section to see if it will hold up over the years for other parts of I-40 that are having trouble," said Mike Shivers, project superintendent with FANN Contracting, who was awarded the contract through the Arizona Department of Transportation (ADOT).
Photo Gallery
Fann Repaves I40 West Of Williams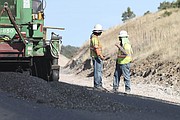 FANN started on the $34 million dollar re-paving project in July. They have until the end of November to complete the project.
The project, named the I-40 Devil Dog project, is five miles long, going from mileposts 156 to 161 and includes a complete rebuild of the interstate from the ground up, including laying a new foundation.
"We worked to push this much-needed project though the approval stages so it could begin this summer and address the damage this section of I-40 has taken over the years due to weather," said Audra Merrick, ADOT's North Central District engineer. "This project will provide the best possible fix for that damage. We know that I-40 is a critical route for travelers and truckers."
Road crews have worked non-stop in the last three and a half months in order to complete the project in the allotted time and before the weather turns too wet.
To do that, FANN brought in raw materials and set up a small concrete plant located on the job site.
"We hauled in the rock and sand to make the concrete material," Shivers said. "They made it right on site … (that material) came from the Red Lake pit, which is FANNs pit. We ran anywhere from 50 to 70 trucks hauling material around the site during the day."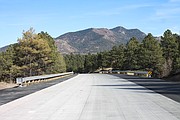 FANN started by taking out the eastbound lane on I-40.
Crews removed the old mix of concrete and asphalt (originally between 10-12 inches thick), graded it down and put down a layer of material called a Class 6AB or leach rock. Shivers said the leach rock creates a better foundation suited for the wet winters and summer monsoons in northern Arizona.
"The ground up here is really saturated from all the moisture and groundwater, so that leach rock is what is under the concrete," he said.
Next, crews further reinforced the foundation by base paving under the concrete, giving the concrete something to sit on.
"The concrete is 14 inches thick," Shivers said. "Right now we are finishing up paving the shoulders … the shoulders, with the base mix underneath are 18 inches thick of asphalt. There are numerous lifts under it."
Additionally, all corridors or drainage lines, under the road, are brand new.
"We've done a lot of grade work — redid the bridge at Devil Dog, resealed it and built new approach slabs on it," Shivers said. "There's been a lot happening, but we're getting to the down strokes now."
Crews will complete the project by completing a 'grooving' process which grinds parts of the top layer down to create a ripple which gives vehicles traction in wet conditions.
"So when it snows or freezes (vehicles) will have traction, so it won't be slick," Shivers said.
As soon as new guardrails and signage are installed and the road has its stripes painted on the project will be completed for the winter. Crews will also re-seed the median or any areas disturbed by construction work. Finally, storm water pollution areas and dams will be checked before the concrete barriers are removed and traffic is allowed access to the new road.
FANN holds the contract to rebuild the westbound side of the interstate next year. Shivers said that work could begin as soon as April 2018.

Bellemont re-paving project
FNF Construction, under a contract by ADOT, is currently repaving 12 miles of I-40 in each direction closer to Flagstaff between mileposts 179 and 191. The $13.9 million project includes minor bridge repairs at Bellemont, A-1 Mountain and Riordan overpasses as well as new guardrails, in addition to the repaving.
ADOT spokesman Ryan Harding said in an email the project is moving along and is expected to be wrapped up in the next several weeks before the winter season.
"Next year, when temperatures warm back up after winter, FNF will come back and apply the final surface layer on that 12-mile stretch of highway," he said.
Another similar project will start next summer repaving I-40 in both directions from milepost 179 to Cataract Lake.
"This project is a separate one from the current one FNF is working on. It will have to go through its own bidding process and contract award, so it will be game for any contractor who bids on it," Harding said.
That project is expected to finish before the 2018 winter season.
Since 2014, ADOT has invested more than $100 million in paving projects along most of the 360-mile I-40 corridor in Arizona.
More like this story