Pizza Factory celebrates 20 years, kicks off No Bully Zone and No Kid Hungry initiatives
Originally Published: October 17, 2017 4:26 p.m.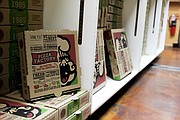 WILLIAMS, Ariz. — Walk down Route 66 in downtown Williams and an aroma of smells will greet you, including that of fresh baked pizza and calzones.
In September, Pizza Factory celebrated its 20th anniversary in Williams. Owners Derrick and Kendra Wortner said it has been a good run. They are excited to offer handmade pizza and calzones to visitors and locals for the last two decades.
"We love this town. That's the best part, meeting different people and seeing them on a weekly basis," Kendra said. "That's his (Derrick) thing — remembering everybody's order. I don't know how he does it."

The Pizza Factory is a franchise with headquarters in California. The Wortners have owned the Williams' franchise since 2009 when they bought it from Charles Coleman.
The couple came to Williams from Washington state where they operated several other Pizza Factory restaurants.
Derrick has worked for the franchise for 20 years. The couple said they were very excited to take over the Williams restaurant and move to town.
"We needed a fresh start and looked at two stores, one in Idaho and this one. With the Grand Canyon in your backyard you can't go wrong," Kendra said. "Plus the small town atmosphere … I grew up in small towns and I couldn't do the big city."
After taking over, the couple made some renovations, gave the restaurant new paint and counters and opened the dining room up — giving it a roomier feeling.
"(Pizza Factories) all want to be a family restaurant. They (should) be open and comfortable for kids to run around in and parents to sit down in," Kendra said. "If you walk into one store it kind of reminds you of the other store that you went to. The menus are always the same —you have different options to choose from."
Derrick said this year Pizza Factory is in the process of implementing several initiatives at their 110 locations located primarily around the western U.S. These include the No Kid Hungry and No Bully Zone. Kicking off in September, the No Kid Hungry initiative allows the Pizza Factory to donate $1 of every special extra large pizza to help fight against child hunger. No Kid Hungry is a national organization focusing on making sure kids are able to eat healthy food through programs such as school breakfast and summer meals.
"Not only will the franchise donate a portion (but) that money goes to the Williams No Kid Hungry," the couple said. "That's what was important to Mary Jane Riva (CEO of the company) — that for each store what money we donate actually goes back to our community."
Kendra said they hope to offer the program three times a year. The next No Kid Hungry offer at Pizza Factory takes place in February.
Additionally, Pizza Factory plans to participate in the No Bully Zone. The No Bully Zone will feature a 'bully bench' at local schools and is a way to encourage students who may not have a friend to sit on the bench to help other students recognize that that child may need a friend.

"We're just waiting our turn for when our bully bench does get here," Kendra said. "When that does come she (Mary Jane) is going to come with the bench and present it to Williams Elementary School, which is where we want it to go."
The Wortons' said being involved in the community is important to them.
"We want to continue to be involved in the community … we want to keep building on that," Derrick said.

Derrick said business has been good in Williams and they are happy to be a part of the Williams' community.
SUBMIT FEEDBACK
Click Below to: