Community trail system a keeper, town council gives plan a yes vote
TrailsInspire planning public meetings to discuss trail system as currently drawn
Originally Published: October 17, 2017 11:32 a.m.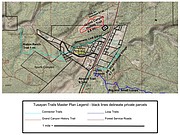 TUSAYAN, Ariz. — The Tusayan Town Council unanimously approved the Tusayan Trails Master Plan in concept at its regular monthly meeting Oct. 11.
The Tusayan Trails Master Plan has been in the works since August, when Sirena Dufault of TrailsInspire took the project to stakeholders and residents to get an idea of what people were looking for in a community trail system. From input received at these meetings, Dufault developed the current trail system, which includes 10.4 miles of single-track, natural trails in various loops around Tusayan; 1.94 miles of graded gravel trail and a .81-mile Grand Canyon History Trail, which will be wheelchair accessible.
Planned trails include multi-modal Long Loop and Short Loop Trails, which would begin on the southeastern edge of the town near the intersection of FR 302 and State Route 64. These trails offer the best opportunities for alternative trail use, including stock use, snowshoeing, cross-country skiing and mountain biking. The Long Loop is about 7.2 miles, while the Short Loop averages about 4.5 miles.
The plan also calls for the construction of the Grand Canyon History Trail, which would walk visitors through the human history of the Grand Canyon area.
"It will be like the Trail of Time in Grand Canyon National Park, only it will focus on people instead of rocks," Dufault said.
Dufault said the Grand Canyon History Trail would include interpretive signage and be wheelchair accessible. The trail is a .81-mile loop along Long Jim Mesa, beginning near the Greenway Trailhead.
The TrailsInspire plan also laid out a number of connector trails and residential pathways for walking or biking to or from work.
Dufault said much of her work focused on construction and maintenance of the trails, which would save the town money in the long run by cutting down on maintenance and repair costs.
"If you put a trail in the right place the first time, there's minimal maintenance," she said. "Most of the maintenance will involve water and vegetation control."
Dufault estimated the cost of the system, without doing a detailed walkthrough, would be approximately $427,980 to $644,715. The town would also need to budget around $10,000 to $12,000 to perform the necessary National Environmental Policy Act (NEPA) assess-ments.
If approved, TrailsInspire would begin getting materials and construction cost estimates and the town would begin the permitting process through NEPA, which only performs assessments in July and August, meaning actual construction on the trails would likely begin in 2020.
Councilmember David Chavez questioned whether the proposed trails would hold up to large events like a marathon. Dufault said the trails would be sturdy enough to support large races and would open up Tusayan as a potential location for popular 10K races, half-marathons and marathons.
Possible conflicts
The U.S. Forest Service has jurisdiction of much of the land the trails cross.
Deputy District Ranger Kendall Cikanek said the Forest Service would evaluate the plan and give high-priority consideration to trails that serve a compelling public need or offer nature-based recreation opportunities on Forest Service lands.
"At first glance, it looks like the Big Loop Trail fits those requirements," he said. "But we would have to first screen for conflicts with endangered plants or wildlife and cultural resources before giving final approval."
Cikanek said that some smaller trails would need a closer look, citing incidents like human-caused fires in the areas near some of the trails.
Chavez also pointed out that the wild areas near the town are popular with hunters, and questioned how the trails would be managed for those wanting to view wildlife and those wanting to hunt it.
Dufault said the trails would offer hunters another way to access wooded areas during hunting season, although motorized vehicles will not be permitted. Cikanek said the Forest Service provides public notices during hunting season and frequently confers with licensed guides to ensure both hunters and viewers are safe.
Resident input
Clarinda Vail said she and other residents thought Dufault had done a good job planning and gathering intial input, but that they hadn't had a chance to see or discuss the master plan as presented.
"Our main concern is that we haven't had a chance to see this plan or comment on it," she said. "A lot of people have given input but we haven't had a chance to digest it. This is the first time I'm seeing it."
The council agreed to support the Tusayan Trails Master Plan, but asked Dufault to return for another round of meetings so residents would have time to look over the plan and address any concerns.
Next Steps
Dufault will return to Tusayan for another round of public and stakeholder meetings, as well as confer with private property owners who may see some of the municipal trails cross their property. The town and the Forest Service will also discuss priority trails crossing public lands and fine-tune some of the smaller trail locations.
Upon council approval of the master plan, contractors will walk the planned trail routes and provide more specific estimates on costs for materials and labor.
SUBMIT FEEDBACK
Click Below to: