After surviving Hurricane Irma, Parks couple grateful to be home

Originally Published: October 17, 2017 2:18 p.m.
WILLIAMS, Ariz. — The once-idyllic vista from Corey Tunnell and Paul Ferry's home on St. John, an island in the U.S. Virgin Islands, is now a view of the crushing power of Hurricane Irma.
The bay, typically protected from storms by surrounding mountains, is home to the historic Emmaus Moravian Church, which took a direct hit from the hurricane.
On Sept. 6, all that was left of the numerous homes with the million dollar view of the aqua blue harbor were their foundations. The debris of those homes — metal roofs, wooden beams, doors and mattresses — were scattered around the stripped bare mountains.
"It was like the Wizard of Oz with pieces of houses above us just landing on our house," Tunnell said.
Trees that once blanketed the surrounding hillsides had toppled over, and brushes and shrubs had been stripped bare from the devastating winds of Irma.
The valley below the homes was just acres of rubble from homes like theirs that were destroyed.
"On our house the solar was ripped off and then it took the metal roof off," Ferry said. "It put five or six large beam impalements into the walls."
Former Parks, Ariz. residents, Tunnell and Ferry went to the Virgin Islands to live in November of 2016 after living in northern Arizona for 13 years.
"We met at the Rack and Bull," Tunnell said. "And lived in Parks since 2004."
The couple had vacationed several times in the Caribbean and decided on a whim to move to St. John.
The couple found jobs in construction and hospitality services.
"We quickly discovered it was super expensive to live there," Tunnell said. "You're talking about $4 for a red bell pepper and $9 for a little thing of blueberries, so $100,000 per year doesn't mean anything."
The couple spent most of their free time getting to know their neighbors and enjoying the beach.
Tunnell loved to float in the ocean on her raft while Ferry would play his guitar.
"I'd tie a rope to a cinder block so she wouldn't drift and then I'd sit at the picnic table and play music for four hours," Ferry said. "I'm going to miss that."
Hurrican Irma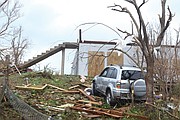 Ferry and Tunnell heard a hurricane was on the way the first week of September. They said they considered leaving, but heard most people in the area just rode hurricanes out.
"No one was in a panic over it," Ferry said. "Nobody really panics with hurricanes there. It's like fires here. We don't just run away — you have to see it to leave it."
Tunnell said she spent five days before the hurricane stocking up on nonperishable foods.

The day of the storm, the couple decided to hunker down in the basement apartment below their home. They grabbed their two dogs and a few household items and began watching the storm from the basement.
"At first we didn't think the storm was too bad," Ferry said. "But then around 1:30 one of the windows started shaking and a house across the streets started tearing apart. A piece impaled our window and threw glass all throughout the apartment."
Tunnell said Ferry had stepped outside to fix the shaking window and she screamed for him to come into the house.
"We both climbed in the shower with our dogs and you could just hear the banging," she said.
Tunnell said they didn't know whether the upstairs was gone and whether they would have a house when the storm ended.
"Our ears just kept popping and sucking for an hour," she said. "We were freaking out."
When the storm ended, the couple was thankful to be alive. They began checking their neighbors and assessing the damage.
"That was the real story, because the Coral Bay community is a really close community. Everybody knows their neighbor," Ferry said.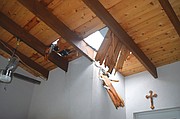 Ferry said it took several days to get down to the community center because of the damaged roads. He said portions of buildings, telephone poles, household items, trees and wires were covering the roads.
At the community center a satellite phone was set up where each resident had one minute to call family members.
"Families really came together to help each other out," Ferry said. "Everybody did incredible things."
Since Ferry and Tunnell were renting their home and their jobs had disappeared with the hurricane, the couple decided to return to the mainland and rebuild their lives in Parks.
"We got on one of the last boats out to Puerto Rico that week," Ferry said. "We basically had 18 hours to disperse our life. We ended up with two Samsonites, a guitar, two backpacks and two dogs."
The couple's cars, computers and most of their household goods were destroyed in the storm.
"We gave away two vehicles to people who needed them even though the windows were all broken," Ferry said.
Ferry said the couple considered staying on the island, but with no jobs and their rented house in disrepair, they said it was an easy decision.
"Between the health insurance and cost of living, it wasn't worth it," he said.
Ferry and Tunnell are now staying with friends in Parks and are looking for a rental in Flagstaff.
"Our friends have been so helpful and we've had offers in Williams, but with only one car we need to be in Flagstaff," he said.
The couple has been slowly acquiring materials to restart their lives in the area. Tunnell is looking to get back into the nail salon business and Ferry is looking for construction jobs.
"Corey lost about $2,500 worth of equipment she needs for nails and I have a pair of pliers and a multitool," Ferry laughed about.
Anyone interested in helping the couple rebuild can donate to an account set up at National Bank of Arizona — Corey Tunnell Ferry Donation Account. More information is available at (928)637-4646.
SUBMIT FEEDBACK
Click Below to: