WHS Senior spotlight: Looking at graduation and beyond
Originally Published: October 11, 2017 4:40 p.m.
Miya Michelena has been a student at Williams Unified School District (WUSD) since kindergarten. She has participated on the cheer team and the HOSA medial club in high school. After graduation she wants to go to Coconino Community College and study in the medical field. She enjoys her medical assisting class and journalism at Williams High School. Mrs. Smith, Ms. Kowalski and Mrs. White are some of her most memorable teachers. She likes to travel and spend time with her family in her free time. She would take Avery, Klarissa, Jose and the rest of the cheer team on a road trip if she could.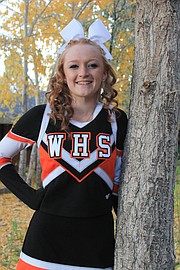 Melonie Daly has been at WUSD since second grade. She has enjoyed cheerleading at the school. Mrs. Smith and Ms. Lickovich have had a big impact on her life. After graduation she'd like to become a veterinary tech or pediatric nurse. During the school year she interns at the police department. In the summer she works as a lifeguard. On her next road trip, she would invite Quinn, Jerry, Ryan and Audrey to go. In her free time she likes to watch Little Bill and Once Upon a Time.
Ryan Bright has been at WUSD since first grade. She has been in band, choir and cheerleading at the high school. In the summer she works at Dairy Queen. Her favorite classes in high school are English and college composition. Mrs. White is one of her favorite teachers. "Since middle school she has taken an interest in me and I can always talk to her," she said. Ryan likes to read and draw in her free time. After graduation, she plans to go to Northern Arizona University and study business. Ryan is on track to receive a Lumberjack Scholarship this spring.
SUBMIT FEEDBACK
Click Below to: