North Rim begins seasonal shutdown
Park is open from dawn until dusk for day use through Nov. 30; North Rim yurt permanently closed, to be demolished

Originally Published: October 10, 2017 10:49 a.m.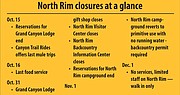 GRAND CANYON, Ariz. — The trees are changing and there's an unmistakable chill in the winds — both signs that North Rim operations will begin seasonal shut-down of most visitor services Oct. 15. 
Lodging options for the North Rim will continue as usual through Oct. 15. No more reservations for Grand Canyon Lodge will be accepted after Oct. 15 — 2018 reservations are ongoing. The last meal served at the Grand Canyon Lodge will be breakfast on the morning of October 16; no food service will be available in the park after this time. Canyon Trail Rides will offer their last mule rides Oct. 15.
The lodge gift shop will remain open through Oct. 31. Self-service gas and diesel fuel will continue to be available.
Visitor entrance and campground fees will be collected through Nov. 30. Entrance fees are good for seven days on both the North and South rims. The North Rim Visitor Center will continue to operate from 9 a.m. to 3 p.m. daily through Oct. 31. The North Rim Backcountry Information Center will be open from 8 a.m. to 5 p.m. daily through Oct. 31. 
North Rim campground sites are available by reservation through October 31. Campground reservations can be made online at www.recreation.gov or by calling 1-877-444-6777. Backcountry reservations are required Nov. 1 through May 15, as the North Rim campground switches to primitive use with walk-in only sites and no running water. The South Rim Backcountry Information Center is open all year and can be reached at grca_bic@nps.gov or 928-638-7875.
The North Rim will remain open from dawn to dusk for day-use only from Nov. 1-30. All North Rim operations will close for the season at 8 a.m. Dec. 1 or earlier if snow closes State Highway 67. Hikers and cross country skiers will be able to enter the North Rim through the winter months with valid backcountry permits. 
Additionally, hikers should not plan on stopping in at the North Rim yurt, which was permanently closed by the National Park Service Sept. 21. The yurt is scheduled for demolition later this fall.
An NPS spokesperson said the closure and demolition of the yurt is a proactive measure being taken to protect park visitors and employees from conditions conducive to rodent exposure and the accompanying risk of medical infections, such as hantavirus.
The spokesperson said there has been no diagnosis or indication of infectious disease relating to rodent exposure from the yurt, and the closure is precautionary with emphasis of visitor and employee safety.
Arizona Department of Transportation officials intend to keep State Highway 67 open through Dec. 1 but a major storm with heavy snowfall could close the road earlier. After Oct. 15, officials recommend visitors be prepared for winter driving and travel conditions and call Arizona Highway Information at 888-411-7623 in advance of their trip to check on the status of State Highway 67. 
The nearest year-round lodging, fuel and food services are located about 45 miles north of the North Rim at Jacob Lake. The South Rim and inner canyon facilities of Grand Canyon National Park stay open year-round.
SUBMIT FEEDBACK
Click Below to:
More like this story