K-9 officer Rex joins Grand Canyon National Park's law enforcement team
GOING TO THE DOGS

Originally Published: October 3, 2017 10:48 a.m.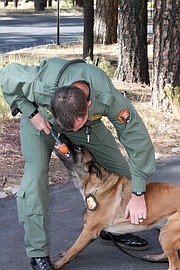 GRAND CANYON, Ariz. — Meet the newest member of the Grand Canyon National Park law enforcement team: His name is Rex, and he's short, furry and full of energy.
Rex is the latest member to join the National Park Service's K-9 law enforcement program, said his handler and partner David Robinson. The program encompasses about 10 parks nationwide and each K-9 officer is trained for the specific needs of the park to which he is assigned.
"Each park is so different that you can't really copy and paste programs over," Robinson said, noting that Grand Canyon's program follows guidelines set forth by NPS and customizes the program to fit the park's particular needs. "There's a big difference between Lake Mead, Grand Canyon, and, say, Yosemite, in the needs of the dog and the needs of the program."
A canine Swiss army knife
Rex is a Belgian Malinois — a smaller, sleeker version of the German Shepherd. He was chosen from a breeder in Holland and brought to the United States by a private trainer who then won the NPS' bid contract for the dog and training services. Choosing the right dog is a highly-selective process carried out by the NPS' canine program director, Robinson said. Rex was chosen through a variety of factors, including an examination of his bloodlines, x-rays and a demonstration of his skills and training.
At 4 years old, Rex is trained to detect five different narcotics, including marijuana, ecstasy, cocaine, methamphetamines and heroin, and to perform patrol work, which includes tracking people and objects and apprehending suspects.
Rex, and law enforcement dogs like him, are bred to have fairly mellow temperaments, Robinson said. He's calm and laid back, but at Robinson's command, he becomes instantly alert. Rex responds to commands in German, and Robinson said while many people may think this is so the average person can't give him commands, it's simply because that's what language Rex is used to hearing.
"Even if a command was given in German, Rex isn't going to pay much attention," he said. "That's because he's trained to obey and take commands from me as his handler."
When Rex was chosen for the program, Robinson spent six weeks with the dog to forge a deep bond — they ate together, walked together, played together and trained together constantly for that entire time. In forging that connection through positive reinforcement, Robinson said Rex knows him as his best friend and boss.
An example of Rex's ability to obey only Robinson is staying on point, no matter where Robinson is in relation to the area. If Robinson signals for him to hold in an area, he won't budge from the spot until Robinson returns and tells him to heel.
"It's one of the things we worked on during those six weeks," he said. "If I tell him to stay here, he'll stay here until I return and give him the command to heel. Everything he does is on command."
While visitors may see Rex patrolling with Robinson in his vehicle and ask questions, unlike law enforcement patrol horses, Rex is not a contact animal. Like all service animals, Rex is working throughout the day and should not be petted or treated as a pet.
Tracking a suspect
Robinson said Rex's abilities in tracking a people is limited to tracking the scent of a human in general, making his use in search and rescue operations a last resort. Rex tracks a person, usually a suspect, via the hormones and scents sloughed off the human body as it moves. For example, Robinson said, if a suspect is on the run, Rex is able to track his or her movements based on what's left behind in the environment.
"To Rex, grass that's been stepped on or disturbed in some way smells different than grass that hasn't," he said. "If a suspect is on the run, he may tend to sweat more, and Rex can pick up those scents."
Rex can also search buildings, picking up the strongest human scent and following it throughout the building, where he will alert Robinson by barking.
In a search and rescue situation, Rex may be brought in to give searchers an idea of where someone is not, but he is not able to track a specific person's scent from an article of clothing or other item belonging to that person.
Robinson also said Rex is specifically trained in apprehension — most of his work involves searching for people suspected of a crime, and he is trained to take them down if they try to run. In the case of finding a missing person, Rex might mistakenly bite the person thinking he is a suspect.
Robinson said many of Rex's duties are performed when people aren't present. Like any other officer, there must be sufficient, constitutional cause given for Rex to go into a facility or a car and search for narcotics.
Frequent training
Because dogs respond to reinforcement and may become inconsistent, Robinson said he is constantly working with Rex and monitoring his routines for any inconsistencies. Robinson performs a variety of training exercises to keep Rex on his toes in both narcotics detection and patrol work, and because Rex is smart, he said, it keeps him on his toes as well.
"If we're searching a building and I use the same facility or hiding place too many times, then Rex catches on and he'll immediately go to the same door every time knowing that he's going to find his suspect and get a reward," Robinson said. "I have to change things up so that he's actually doing the work and not getting lazy, because in a real situation obviously that's not the outcome we want."
Rex covers the entire park, both the North and South Rims, so his training has to cover anything he might experience on either location, such as pursuing a suspect through dense forest or riding in a helicopter or plane to get to the correct location.
Safety first
Robinson stressed that while Rex is not a pet, he is first and foremost a member of the team, and that means other law enforcement personnel look out for him as one of their own. Because of that, Robinson said, he wouldn't send Rex into a situation where he could be injured or shot unless it was a case of absolute danger to the public.
"If we're dealing with a dangerous suspect, we might send him in just to provide law enforcement presence," Robinson said. "He doesn't have body armor, so if we need to use him, we want to be absolutely sure he's safe or that there's an immediate danger to the public."
Retirement
While Rex is only 4years old, Robinson said depending on health and other factors, the average law enforcement dog works until he's about 8years old. At that point, he will essentially become a pet. Robinson said he agreed when he signed on to become Rex's handler that he would take care of him after he's retired.
"Police dogs required someone trained in how to handle them after they retire," he said. "It ensures both the dogs and their owners are safe."
Robinson said the park is looking at bringing in another K-9 officer in the next couple of years so both the trainers and dogs can work together for a couple of years before Rex is retired.
SUBMIT FEEDBACK
Click Below to: