Williams schools recognize November Students of the Month
Originally Published: November 28, 2017 4:28 p.m.
WILLIAMS, Ariz. — Williams Elementary-Middle School recently announced its November Student of the Month (SOM).

Litzy Urias was the kindergarten SOM. Her teacher said Litzy is a student who works very hard and always pays attention. She is respectful and never gets her name on the board. She is always smiling and is doing so well in the phonics program.
The first grade SOM was Mikaela Davalos. Mikaela's teacher said she comes to school every day with a smile on her face and is kind to all of her classmates. She offers to help others and cares about their feelings. When she plays at recess, she always includes others. She works very hard in class and always tries her best.
The second grade SOM is Christopher Townsend. Christopher's teachers said he is a very respectful and kind young man and said he always tries hard and is willing to help others when he sees them struggling. He comes in every day with a positive and upbeat attitude, ready to learn.
The third grade SOM is Leslie Vasquez. Leslie's teacher said she is a very sweet student and said that even though English is her second language, Leslie attempts to do her best on all activities without any complaints or excuses. She asks for help when she doesn't understand and listens attentively.
The fourth grade SOM of Keenan Yazzie. Keenan's teachers said he has made progress in his reading and said he is confident and proud of his achievements. Keenan works hard every day to meet his goals and always comes to class with a smile. Keenan is caring and a great teammate to others.

The fifth grade SOM is Hailey Chase. Hailey's teachers said she is diligent about not only getting her schoolwork finished on time, but always does her best. Hailey's teachers said she is a great example for her peers and said Hailey is especially conscientious when it comes to having good grades and never misses an opportunity to improve. She is also a good friend to everyone she meets and is always willing to help others who may be struggling with their schoolwork.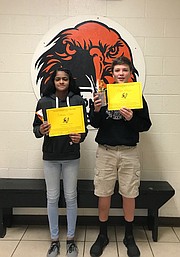 Middle School
Oryn Orozco is the male SOM for Williams Middle School. Oryn's teachers said he has been a true leader middle school this year.
"There are moments in a teacher's life where a student surprises them, Oryn has taken his teachers by surprise this year. Oryn has always been a light hearted student that can make his teachers or peers laugh. However, this year Oryn has taken a serious tone in his academic pursuits. He has shown eagerness to join discussions with thoughtful knowledge and ideas. Oryn is looked up to by his peers so his leadership has transformed classes into an academic culture. More students are learning because of him. Although he can still make us laugh he is also paving the way as a positive role model," they said.
Diksha Patel is the female SOM. Diksha's teachers said she is an amazing student who always gives her best in language arts.
"She produces well thought out answers and shows a deep understanding of grade level texts! Diksha is never afraid to take risks and truly embraces new learning. She is completely committed to doing her best every day and always uses class time wisely. She follows directions, completes every assignment, and her work samples are exemplary. Not only does she have beautiful penmanship during writing tasks, but also on her numbers as she shows every math step. She easily grasps new concepts and continuously exceeds our expectations."
SUBMIT FEEDBACK
Click Below to:
More like this story