Vikings basketball opens season with easy win against Basis
Originally Published: November 28, 2017 4:46 p.m.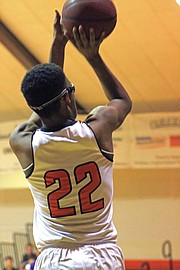 WILLIAMS, Ariz. — With the football season retreating in the rear view mirror, many Vikings traded their cleats for high tops and quickly embarked on the 2017-2018 basketball season.
Of the nine varsity players who suited up Nov. 21 for the game with BASIS – Flagstaff, four had just recently left the gridiron.
The Vikings lost no time in gaining their footing however, as they cruised to an easy 57-37 win over BASIS.
Seniors Payce Mortensen and Zack Perkins led the scoring for the Vikings with 16 and 13 respectively, followed by sophomore transfer William McMenamin with 10.

Perkins shot 63 percent of his two-point field goals, followed by McMenamin with 57. Mortensen shot 50 percent in two-point shots and 13 percent in three-pointers. Mortensen went 5 for 6 in free throws.
Perkins led in rebounds with seven, followed by junior Stephen Gary and senior Juaquin Gutierrez with six. Perkins and Diego Pedraza each had four steals.
The Vikings are returning with seven seniors this year after losing just two to graduation last year. The Vikings finished the 2016-2017 season 19-11 in the 1A Conference and 14-2 in the 1A Central Region. They beat Ash Fork and Joseph City at the 1A Central Region Tournament, and lost in the first round of the 1A State Tournament 51-39 to Baboquivari.
The Vikings faced Cibecue Nov. 28 and return to Williams to host the 21st annual Route 66 Holiday Basketball Classic Nov. 30 – Dec. 2. They face Chino Valley Nov. 30 at 10:15 a.m.
More like this story
SUBMIT FEEDBACK
Click Below to: