In the line of fire: Man shoots at Williams police, suspect in custody
Originally Published: November 28, 2017 6:11 p.m.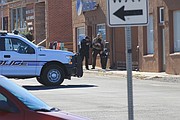 A Williams neighborhood was evacuated Nov. 28 as law enforcement officers investigated a report of a suicidal man with a weapon. The man, identified as Joel Gutierrez, 35, from Williams, subsequently shot at officers, hitting a patrol vehicle as officers approached the residence. No injuries were reported.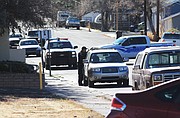 Around 9 a.m. Williams Police Department, received calls of a man driving in the forest near Williams threatening suicide.
Williams Police Department and Coconino County Sheriff's deputies were given a description of the man and the vehicle.
After a brief search, the vehicle was located parked outside a residence near First Street in Williams.
According to Williams Police Chief Herman Nixon, officers were unsure whether the man was inside the residence.
"They didn't even know if he was here," Nixon said. "Nobody knew if he was in that apartment. They just saw the car."
Officers began evacuating the nearby residences and businesses, including the post office, Allstate and several other buildings.
"They set up a perimeter and tried to make contact with him," Nixon said.
Officers attempted to reach the man via phone, however, he began shooting at officers from the upstairs room in the residence.
Officers took cover behind a patrol truck. They did not return fire.
"They were too busy on the ground trying not to get killed," Nixon said.
The patrol truck was hit numerous times as well as a nearby house. No officers or citizens were injured.
Within minutes of the shooting, Williams Police Sergeant Tad Wygal contacted the man on the phone and talked him into coming out. The man surrendered without incident.
"People question why you don't fire back," Nixon said. "We didn't know if he had a hostage or if somebody else was in there. There could be little kids in the apartment."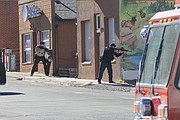 Nixon said he was unable to verify what type of weapon was involved, but said it has been secured by law enforcement.
"Looking at the bullet holes, it was some type of high powered automatic weapon," he said.
The man was taken into custody and transported to Coconino County Jail where he was charged with attempted homicide. Nixon said the Williams Police Department has had no major prior incidents with Gutierrez.
The Criminal Investigations Division of the Arizona Department of Public Safety is conducting the investigation of this incident per the request of Williams Police Department.
"It takes eight to 10 detectives to handle all of this, we just don't have that kind of man power," Nixon said.
Williams Unified School District was on lockdown during the incident.
SUBMIT FEEDBACK
Click Below to:
More like this story