Williams Kiwanis club begins new season, selects member of the year
Originally Published: November 21, 2017 10:36 a.m.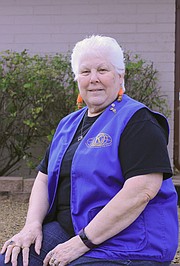 WILLIAMS, Ariz. — "Kiwanis Club is all about the kids," said member Rodger Ely.
Ely said locally, the group raises the majority of their money through the summer swap meet in Williams.
"We give away scholarships each year," Ely said. "We try to give away five, $600 scholarships each year."
The group has also bought Chromebooks for Maine Consolidated School and the Williams Unified School District.
"We are also in the process of trying to get some for the high school culinary class," Ely said.
Ely said the group also supports the schools by providing back-to-school supplies.
In the summer, the group also hosts a craft fair.
In the winter, the Kiwanis Club hosts a coat and blanket drive to help families in the Williams community. They also help host the annual Christmas Dinner in Williams.
"This year it will be at the elementary school," he said.
Ely said their biggest fundraiser is the swap meet, but the group also helps raise money and provide food during the summer Little League and rodeo programs.
The Williams Kiwanis also supports Kiwanis International.
"We help with prenatal tetinus in foreigh countries," Ely said.
The group's next plan is to host a District Kiwanis convention in Flagstaff, since Flagstaff has no Kiwanis clubs.
Anyone interested in joining Kiwanis can call Pam Hendrickson at (928) 635-0902.
More like this story
SUBMIT FEEDBACK
Click Below to: