Roger Ely recalls how 'the world changed rapidly' in Vietnam
Originally Published: November 21, 2017 11:15 a.m.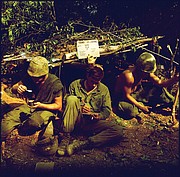 WILLIAMS, Ariz. — The average age of the American soldier killed in action during the Vietnam War was 23 years old. One out of 10 soldiers were injured or killed during the conflict.
In 1966, Roger Ely was 18 years old and was headed to college on a wrestling scholarship when, out of a sense of duty, he asked his uncle to drive him to the recruiter's office where he joined the U.S. Marine Corps. Shortly thereafter, he found himself on his way to Vietnam.
Ely was trained as a machine gunner attached to the 3rd Battalion, Ninth Marines in Vietnam. Ely said the world changed very rapidly for him during his tour of duty.
"No movie really tells what you feel, smell, hear or see. It was surreal," he said. "I learned the hard way … you grow up quick. A lot of things change right away —it's a surreal atmosphere, living with very young people who are supposed to be men and women right away. You learn a lot about life in a very short period of time."
Ely was raised near the beach in southern California by Great Depression era parents who served in World War II. He joined the Boy Scouts and learned Americanism and respect for the American flag. He was raised on American hero movies, the thrill of victory and the winning spirit. He was also raised during a time where communism was a threat and nuclear war was on everyone's mind.
"All of a sudden on the news, we had a president that was killed and the world started getting crazy," he said. "I graduated high school and went to college like everybody and then all of a sudden we were called. At the time I thought that was my responsibility."
Ely served in central to northern Vietnam. He was mainly in forward operations — rarely at a base. His unit carried out large operations, ran ambushes and went on search and seize and search and destroy missions. Ely also served with a rapid reaction "Sparrow Hawk" force that was called into action by units in need of help.
"We would fly in vertically and get right in the middle of it. That was really neat," he said.
Later, Ely became a team leader and a squad leader. As squad leader, Ely was in charge of running patrols.
"But my favorite was carrying that Rambo gun, so to speak — pretty cool little weapon," he said.
Ely was wounded three times during his tour. He received two shrapnel wounds, one in his arm and another in his left leg. He was also shot through the neck. The bullet went through his collar, entered his neck, exited his neck and went out the other side of his collar.
"When you flipped up the collar there were four holes in it," he said. "It went right between my vertebrae in my neck."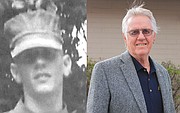 Ely sent the shirt home to his father.
Ely said being in Vietnam was a cultural eye-opener.
"It was an interesting experience being there with a different culture — not understanding the culture," he said. "The purpose of why we were there, at least in the early part of the war — '66 to '67, (was because) we were on a mission to help those people. Of course being the age we were, we were raised with the threat of communism and nuclear war. That was a big part of our upbringing and we thought we were doing the right thing at the time — at least I did. Later on, I looked at it from a different perspective, a broader scope of what we did and what we didn't do."
Acclimating to the conditions in Vietnam also took time.
"Of course we lived with the leeches and the mosquitoes and the bugs. Every leaf, every plant had serrated edges and you were wet all the time," Ely said. "You were either sweating from the heat or it was raining. So if you had any sores, any cuts, anything on you, it took a long time to heal."
While on patrols, Ely said the team took everything into consideration — from whether or not they would wear camouflage to how much extra weight to carry.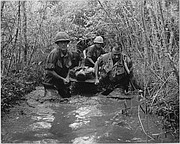 "Believe it or not, if you're on patrol and it's a full moon it's like daylight out there. Once your eyes get used to it, you stand out," he said. "When you're on these patrols you were always very quiet and made sure you didn't have to carry any more than you had to — on a short patrol or something that's overnight. If you were getting heli-lifted out that made a difference also on what you bring."
Night patrols were often the most intense.

"Patrols you were usually scared. You didn't know what you were going to run into," he said. "When a firefight starts, it changes everything. It becomes high speed. In some cases slow motion. You have to take it seriously, especially when guys get hurt. That's where everything happens fast."
When he wasn't on patrol, Ely said the troops would pass time by playing football, reading and writing letters or joking with one another. Ely liked to draw and played the guitar or would listen to the most recent Top 40 songs his cousin sent him. Since troops did not have access to TV or news, they relied on what was written in letters or what news was brought in by incoming troops.
During the early part of the war, the unrest in the United States over civil rights and the war was not obvious to many troops. Ely said he served with African American troops and said, for the most part, the civil unrest was something happening in the U.S.
"There was some friction that was noticeable. A lot of it was whether it was discrimination or not (because) it went both ways. There was the pride of the Hispanics and the black races to come out. Which was really good," he said. "We were always sparring in a joking manner. However, we all carried loaded weapons and slept with hand grenades and ammo, it was everywhere. So, I didn't see a lot of fights. There were a couple of guys that flipped out of course — from stress, but the average Marine stayed in line. A lot of it had to be the training. There's a lot of regimentation and in a war footing you don't want to cause a lot of problems where it could injure a lot of people because then you could use lethal force. You had to be careful who caused what."
When he returned home, Ely said he noticed a change, but some of that change was from his experiences as well.
"When you come back you're different and the people that you knew are different," he said. "It's a part of life. A lot of people don't forget these things — they try to forget all the time. We weren't always proud of what we did, it wasn't exactly something you are born to do to face an enemy, but it does happen. I feel no different probably than anybody from any war throughout history. (Vietnam) was a little unique in that we were not accepted. You couldn't let it out, you had to keep it in. I know a lot of people who still keep it in and they've suffered from it. Their suffering is on the inside, not the outside. I for one will never forget it."
Ely returned to find many of his friends had changed as well.
"When I came home, being raised in southern California around the beach crowd, I was different. I was a different person. They were different. My girlfriend, who I had exchanged letters with the whole time, my high school sweetheart so to speak, she was like a little girl," he said. "I was shunned to a certain extent because of this 'Vietnam thing.' A lot of it was because they didn't go and a lot of it was just the fact that they didn't want to go and didn't want to hear about it."
Ely returned to California and finished his enlistment in San Diego, where he served as a Marine guard at the Naval Station.
In 2012, he retired to Williams. Ely has served as the commander of the American Legion Cordova Post 13 and was a past commander for the VFW. He is involved in numerous volunteer organizations throughout northern Arizona.
SUBMIT FEEDBACK
Click Below to:
More like this story