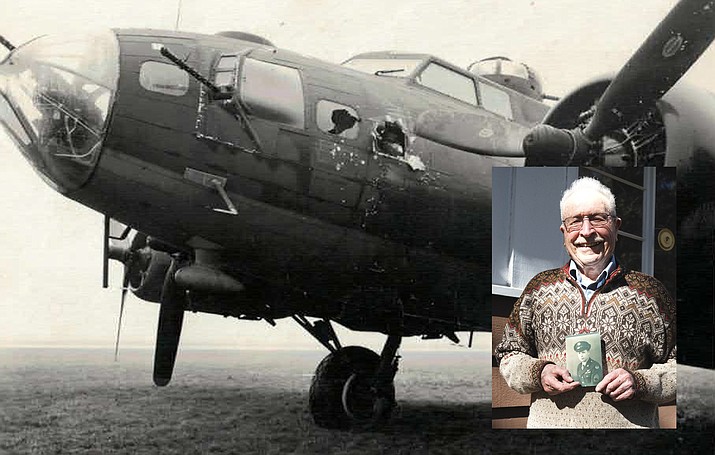 Originally Published: November 7, 2017 11:30 a.m.
Looking at Walter you might guess he's around 60 years old, so when he told me he just celebrated his 95th birthday my jaw hit the floor. His energy is contagious and you just can't help smiling after spending any amount of time with him.
Walter Olmsted Jr. was born in upstate New York on Sept. 22, 1922. He grew up on a farm and graduated high school in 1941. A few months later on Dec. 7, Pearl Harbor was attacked by Japan and the U.S. entered WWII — Olmsted was 19.
"I was laying on my belly next to a pot belly stove reading the funnies, there was snow on the ground in December and the news came on the radio," he said. "We, the same as everybody else, just couldn't believe it. As time went by I decided that instead of going to college I would take a post graduate class in mathematics so that perhaps I could get a commission — I always wanted to be in the Army Air Corps anyway. Instead of being drafted, I enlisted in Oct. 1942."
Olmsted joined the Army and went to Fort Dix, New Jersey, where he was selected to be in the Army Air Corps.
"I was on KP (kitchen duty) in the mess hall scrubbing out garbage cans and this little lieutenant came running in shouting, 'Olmsted, Olmsted, Olmsted! I got news for you, you're going to Miami Beach and you're in the Army Air Corps,'" Olmsted said.
After leaving Miami, Olmsted boarded a troop train to Denver, Colorado to attend Armament School, where he learned to care for and use a variety of military weapons.
He then attended and graduated flight school at Kingman Army Air Base in April 1943. During training, Olmsted learned to shoot at targets with 30 caliber machine guns while flying in a small, open pit airplane.
After graduation, he flew to Shannon, Ireland and was sent directly to Scotland where he spent one week in Escape and Invasion School. He was then stationed on an airbase near Bedford, England in November 1943.
During his time in England, Olmsted completed 43 combat missions over Norway, France, Poland, Belgium and Berlin, Germany. As a gunner, he was part of a 10-man crew on B-17 bombers.
"The plane would bounce up when we dropped the bombs, sometimes we'd have 100, 200 or 500 pound bombs and it would jump," Olmsted said. "We would follow railroad tracks, a train station or something like that. We first started out (bombing) submarine pads off the coast of France because the (German) submarines at that time were really tearing up our Navy and freighters bring fuel and food over across the ocean. They were losing a lot of them, so we went to the source."
According to some historians, prior to 1944, a crewman's tour of duty was set at 25 missions before they could go home.
"Originally it was 25 missions and then at 26 and finally they had to put in 30 missions to put in a tour — to be all done," Olmsted said. "Then they'd have big celebrations with champagne and dunking the pilot in a bucket of water."
Olmsted said most new crews were lucky to get 10 missions.

"We got through several hairy ones … we had three squadrons on the base (with) 12 aircraft a piece. We put up 36 aircraft. Early on, we were losing a thousand people a day in 1943. That is a lot of airplanes and a lot of people. They figure about three-quarters of them, perhaps, became POWs and the others the planes blew up and they were splattered all over the country. They have found a lot of the bones lately," he said.
Olmsted said he never had to use his parachute — he actually never wore it.
"In the tail of the aircraft there is very little room to wear a full parachute. We wore our harness and we had to hook on to our parachute. I sat on (something like) a bicycle seat and I had my two 50 calibers in front of me. I was actually the eyes and ears of where the aircraft behind us were. (Later) my pilot became the lead plane," he said.
Olmsted credits his pilot Billy Cassidy for keeping him alive.
"One mission where our plane (was) all shot up, that's when the 110 Twin Engine fighter had a 20 mm cannon on it. They could set and lop shells in (and be) out of range for the 50 caliber. One of them exploded right at the windscreen and projectile tore up the co-pilots shoulder and blinded Billy — it cut through his glasses, so he couldn't see anything. We had just left dropping our bombs so the plane was not quite on autopilot yet … we just made it on that one. Dearly Beloved was the name of that plane — after the song," Olmsted said. "We got trucked out of there and Dearly Beloved ended up being a plane they used parts of and eventually probably put in the bone yard. We had it for about 10 missions."
On April 19, 1944, 22-year-old Olmsted was flying a mission over Castle, Germany without protection from fighter planes and was wounded in his right hip.
"I was in the waist position and it came up — I was standing on a flak suit — we wore them because it had metal in them and covered you… (the bullet) came up from the floor, hit the edge of my parachute bag ... it came through, cut my heater cord — we were wearing some heavy (clothing) and under that I had an OD uniform and long johns. It was fortunate that it hit the (heater) cord first," he said. "It kicked me like a mule when it hit me. I fell over and I kind of shook my head and I got up because we had fighters coming in then. That's when I saw something on the floor that had fallen behind me. (It was part of an 88 shell that hit Olmsted)."
Olmsted pocketed the piece of the shell that wounded him and continued to fire at the fighter planes. After landing, he needed 12 stitches in his leg. The bullet had missed the bone — its impact slowed after cutting through the heater cord and layers of clothing he wore.
Just prior to being wounded, Olmsted and his pilot had signed up for another tour of duty. They were allowed 30 days leave in the U.S. before reporting back to England.
Olmsted boarded a hospital ship and spent 30 days at home. As he was preparing to return to Europe, Allied troops launched the D-Day invasion and the fight to take Europe from the Axis powers began.
Olmsted boarded the Queen Mary liner with 20,000 other troops who would serve as replacements for those who were killed during the invasion. Many of the troops were very young — 18, 19 and 20 years old. By this time, Olmsted was 22 years old and had completed 26 combat bombing missions.
"Those kids were throwing up all the time," he said. "We thought we'd get some fresh air up on the rail and they were all leaning over the rail. We didn't get sick, the 12 of us that went back," he said.
On his return, Olmsted was promoted to Squadron Gunnery officer and was responsible for supplying extra parts and ammunition to bomb crews. He was able to choose which missions he wanted and chose the last 17 missions he flew — all but one.
"I wouldn't say they were all milk (missions), we had flak, which was most of it, we didn't have any fighters to speak of at that time," he said.
When V-E (Victory in Europe) Day happened, Olmsted was on leave in London.
"Talk about a celebration! The place went crazy. All the Yanks got free booze and all the ladies gave us kisses and hugs. It was really something," he said.
Olmsted returned to the U.S. on a troop transport ship in Sept. 1945.
"We were so glad to get on that — there must have been 500 of us in that hanger type thing ... I learned how to play Blackjack," he said. "Nothing else to do and were all pretty flush as far as money goes."
At that time Olmsted made around $50 a month. He won $300-$400 playing blackjack.
For his service, Olmsted received the Distinguished Flying Cross, eight air medals, a Purple Heart and several Theater of War citations. He reenlisted in 1948 with several flying positions in B-29 and B-50 during the Cold War. He retired from flying and spent the remainder of his career was spent as a maintenance supervisor in armament and electronics for the B-52 H Bombers. He retired CMSG in May 1970 and was awarded a Meritorious Service Medal.
Olmsted met his wife, Eva, at a dance in Newport, New York after the war. Eva had worked at a shoe factory during the war. They were married for 62 years until her death in 2008. They have three children. After his retirement, Olmsted retired to Williams.
Every year since his wife's death Olmsted has pursued his love of traveling and spent time in Australia, Egypt, the Panama Canal, England, Scotland, Wales, France, Italy and Hawaii.
Olmsted is the guest of honor at the 2017 Veteran's Day Dinner at American Legion Cordova Post 13 in Williams Nov. 11.
More like this story