Logging trucks, I-40 accidents keep Williams responders hopping in October
Originally Published: November 7, 2017 1:33 p.m.
Williams first responders had a busy October, responding to multiple fires, accidents and medical calls throughout the month.
On Oct. 4, Williams Volunteer Fire Department responded to a brush fire at milepost 171 on Interstate 40. Firefighters determined it was smoke from the USFS prescribed burns in the area.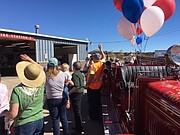 The fire department held its annual Safety Day and open house Oct. 7. Over 110 people stopped and visited Fire Station 2 on Rodeo Road. The event included a barbecue, fire suppression activities, informational booths and tours of the station. Navajo Air Ambulance conducted a fly-over with their helicopter.
On Oct. 14, firefighters, EMS and law enforcement responded to a traffic accident on I-40 at milepost 176. Responders found a diesel truck involved in the accident that had spilled 50 gallons of diesel fuel, creating a hazmat response. Traffic was backed up on I-40 to Ash Fork until the accident was cleared.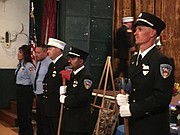 Later that day, the Williams Fire Department honored the passing of Fire Chief Jimmy Walker. Members of Williams Fire and American Legion Cordova Post 13 hosted a ceremony to honor Walker and his family.
Firefighters responded to a request for assistance at Cruisers restaurant Oct. 15. The owners found a swarm of bees resting on an umbrella on the patio of the restaurant. Firefighters were able to exterminate the bees with foam.
On Oct. 16, firefighters and other responders were dispatched to the Perkinsville Road near Lost Canyon for an overturned logging truck. The driver was uninjured and no other vehicles were involved. The truck received extensive damage and dozens of logs were scattered across the road and shoulder.
Officers conducted an extrication training session Oct. 18. Firefighters Kopicky, Schulte and Mackay lead exercises that used jaws and cutters to remove a victim from a vehicle. They also practiced using struts and a litter basket. Personnel from Life Line ambulance attended and instructed attendees regarding trauma care and patient movement.
On Oct. 24, firefighters responded to a mutual aid request from Ponderosa Fire Department for a house fire. Firefighters Kopicky, Thibault and Thompson responded with Engine 7 and assisted with water supply, drafting and fire suppression. The fire resulted in one resident fatality. The home was completely destroyed.
Firefighters also responded to several incidents on I-40 related to the construction zone west of Williams. Arizona Department of Transportation advised the department that jersey barriers will be removed within the next two weeks allowing ea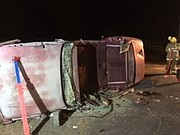 sier access for emergency vehicles.
On Oct. 26, ADOT met with Williams Fire Department to showcase their new plow/pull snowplow. The machine allows plows to work both lanes on I-40 at one time.
SUBMIT FEEDBACK
Click Below to:
More like this story