Grand Canyon renews agreement with China's Yuntaishan Geopark
Originally Published: May 30, 2017 10:17 a.m.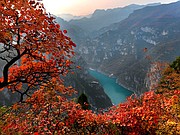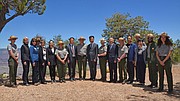 GRAND CANYON, Ariz. — Grand Canyon National Park and China's Yuntaishan Geopark renewed their five-year Sister Park agreement on May 23.
Brian Drapeaux, deputy superintendent, and Yuntaishan Park Director Jin Guibin signed the agreement at a ceremony at Grand Canyon's Shoshone Point. The gateway city of Jiaozuo's Vice Mayor Yang Quingjiu, Yuntaishan interpreters and staff, representatives from tourism bureaus, university professors, and local city government officials traveled to Grand Canyon to participate in the ceremony. Grand Canyon National Park leadership staff and representatives from Grand Canyon Association, Tusayan Chamber of Commerce, Tusayan Town Council and Arizona Office of Tourism also witnessed the ceremony at one of Grand Canyon's most unique overlooks.
The Sister Park agreement between Grand Canyon National Park and Yuntaishan Geopark was initially signed Nov. 1, 2007 in Yuntaishan, China.
Much like Grand Canyon, Yuntaishan is well known for its canyons and gorges formed by erosion from rivers on layered rock. The park is located in the southern foothills of Taihangshan Mountains, in the Henan Province of northeastern China. The park is divided into five distinct areas, each showcasing a different feature of the rifted landscape. Yuntaishan is home to hanging springs and waterfalls, while the Qinglongxia area features mountain streams and deep gorges. Visitors can also experience towering rock formations, temples and gardens. Like the Colorado River, the Qingtianhe River flows through the center.
There are also similarities in visitation and natural and cultural resources between the two parks, which were main factors in establishing the initial agreement. 
The agreement allows for an intellectual exchange, international cooperation, and support for the mutual benefit of both parks to enrich the training of park staff and visitor experience. This relationship grants both parks to share firsthand information on a variety of topics including national park management, resource conservation, education, partner organizations, friend groups, collaboration with gateway communities and local economies. This is primarily accomplished through the exchange of professional knowledge, training opportunities, staff exchanges and conferences.
During the first five years of the sister park agreement, Grand Canyon staff visited Yuntaishan and presented at conferences focused on interpretation and sustainable development. In return, Yuntaishan geologists traveled to Grand Canyon and met with park geologists and attended a Geoscience Symposium. Over the years, staff from both parks have had the opportunity to travel and learn about the other park's culture, interpretive techniques, and educational outreach. At Grand Canyon, the Sister Park arrangement has provided a variety of information on how to improve outreach and better serve the increasing number of Chinese visitors to Grand Canyon.
Over the next five years, Grand Canyon hopes to continue collaborating with Yuntaishan and exchanging knowledge to improve the park's interpretive and educational outreach, search and rescue program and operational leadership.
SUBMIT FEEDBACK
Click Below to:
More like this story