Custom made signs on tap at Signcarver.com
Originally Published: May 30, 2017 10:40 a.m.
WILLIAMS, Ariz. — For those looking to take home a one-of-a-kind, unique souvenir or a decoration for their home or business, Signcarver.com is your one stop shop.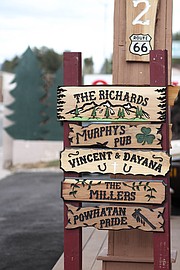 Withinn 20 minutes to an hour John Graham, owner of Signcarver.com, creates custom made signs.
Graham has spent the last 15 years traveling at fairs and festivals making custom signs. He has traveled as far as the mid-west with his work. Originally from Pleasanton, California, Graham said he decided to settle in Williams based on the demographic and amount of tourism to the town. He and Christie Walker, co-owner of the business opened the store in February.
"I ended up in Williams because I looked at the demographic," he said. "The Grand Canyon isn't going anywhere … tourist hunting is what I call it. Now I'm here for good."
All of Graham's signs are made from redwood. He uses routers, planners and sanders to create the signs, which are entirely made to order.
"Everything is custom made here, on the spot," he said.
Graham said the most common requests he gets are people's last names. He also carves business names, personal signs and any other requests.
"It's always something different," he said. "If you can imagine it we can make it happen, make it beautiful."

While business was slow during the first few months of opening, Graham said business has picked up with the return of tourists to Williams.
"The locals kept me alive until the tourists got here. Now the tourists are paying the bills," he said.
Graham said he is aiming for a successful career at his new, more permanent location and hopes to be in Williams for years to come.
"There is always going to be tourists here," he said.
Signcarver.com, located at 402 E. Route 66 in Williams, is open seven days a week from 8 a.m. to 8 p.m. More information is available at signcarverdotcom or from Graham at signcarverdotcom@gmail.com. Signcarver.com ships national and internationally.
SUBMIT FEEDBACK
Click Below to: