Williams schools announce May Students of the Month.
Originally Published: May 23, 2017 11:39 a.m.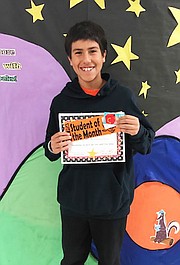 Williams Unified School District (WUSD) recently announced the May Students of the Month.
The kindergarten Student of the Month is Joshua Oliver. Joshua's teacher said he is a kind, hardworking student who always has a great attitude. He is helpful to his peers and puts his best effort into everything he does. Teachers can always count on Joshua to do the right thing and set the example of behavior for the class.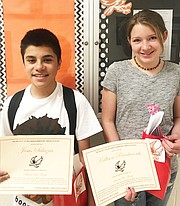 The first grade Student of the Month is Robert Kruse. Robert is new to the school district this year. His teacher said he is very respectful in class and he gets along well with his peers. His teachers say they are very glad they got the chance to be his teacher. 
The second grade Student of the Month is Joaquin Godinez. His teacher said he is always incredibly kind to his classmates and willing to offer a helping hand. He also puts forth his best effort even when tasks may be a little challenging. He is quick to follow instructions and does what is expected of him. He is an overall joy to have in the class.
The third grade Student of the Month is Zerik Malzahn. Zerik has not been in the class for very long, but the improvement his teacher has seen since he has been here is worthy of recognition. Zerik does excellent work in all areas and completes all assignments. He has become a great example to those around him. His teachers said they are super proud of Zerik and the positive changes he has made to help him excel in all ways. 
The fourth grade Student of the Month is Andy Lerma. Even though Andy is a new student this year, he has already become a respected leader for the fourth grade. Andy has put forth exceptional effort and is conscientious about his education.
The fifth grade Student of the Month is Martin Aguilar. His teacher said he works hard and is constantly trying to improve his academics. If there is an assignment that is not done right the first time, Martin will go back and take his time and fix it. He is always in a good mood and has a unique sense of humor. On top of that, his grades have steadily improved as have his Galileo scores. They have increased almost 30 percent between the first and third benchmark.
Middle School
The seventh grade female Student of the Month is Kallison Brinkworth. Her teachers say Kallison is a conscientious student who is a fabulous role model. She is a hard-worker in all subject areas. She is well-behaved and has an extremely scientific mind. She is smart and respectful at all times. Her cheerful disposition is contagious. Kallison is polite, respectful, well-behaved, turns in most work, and is an overall joy to be around.
The seventh grade male Student of the Month is Jesus Salazar. His teacher's say Jesus is well-behaved and respectful in class. His focus and motivation academically have gotten stronger as he progressed through his seventh grade year. They believe that his eighth grade year is going to be great. For example, when he sees his grade gets low, he takes the initiative to bring it up and stay on top of his success.  He puts in effort to complete make-up assignments, and even shouldered some extra work when his partner was absent during a project. He is a wonderful role model
More like this story
SUBMIT FEEDBACK
Click Below to: