Eye in the sky: fire crews deploy drones to combat wildfires
High-flying tech helps fire crews safely scout wildfires

Originally Published: May 16, 2017 11:57 a.m.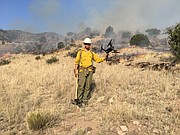 GRAND CANYON, Ariz. — According to the U.S. Department of Agriculture, the wildfire season is about 78 days longer than it was in 1970. In 2013, the last report available from the National Interagency Fire Center, the agency stated 1,759 wildfires burned about 105,281 acres in Arizona.
To combat the destruction of wildland fires, rangers at Grand Canyon National Park have begun using unmanned air systems, or drones, to help firefighters safely scout fires.
Justin Jager, interagency aviation officer for Grand Canyon National Park, Kaibab and Coconino National Forests and Flagstaff and Verde Valley Area National Monuments, said the drones are utilized in conjunction with traditional methods. Operators use the devices to scout fire lines, or communicate information to other personnel in the area.
The ability to use drones near a wildland fire significantly cuts down on the risk to firefighters in the area, Jager said. It's technology that could prevent tragedies like the one that occurred during the Yarnell Hill fire in 2013, when 19 members of the Granite Hill Hotshots were overrun and killed.
It's just one of several techniques rangers and firefighters use, Jager said.
"We would have a fixed-wing pilot circling high above the area, giving a general overview of the situation to other agency pilots in the area, along with crews on the ground," he said. "Then we might have a drone operator searching the outskirts of the fire area, looking for areas for fire lines."
All of the information comes back to the point of command, so decisions can be made in real time about fighting the fire safely and effectively.
Because drones are so readily available to the general public, Jager said irresponsible use by community members or bystanders can inhibit a crew's ability to fight fires.
"We always try to tell people that if you're flying, we can't," he said. "If there is an unauthorized drone in the area, we immediately ground all of our flight crews until the person is found and told to remove it from the area."
Some people are just curious, he said, or some may want to provide information about the fire to authorities, but in reality, the unauthorized drones create a dangerous environment for personnel working in the area.
Jager said the first call made in the case of a wildfire is to contact the FAA and lock down the airspace in the area. This eliminates danger from passing planes or helicopters, allowing the fire crews to operate safely. Unauthorized drones, he said, can wreak havoc for pilots, who have to be on constant lookout.
"If you're ever seen what a bird can do when it hits the windshield or engine of a plane, drones are much heavier than a bird," Jager said. "A small device hitting a helicopter flying at 100 knots would be catastrophic."
In spite of the risks, the drones are still a valuable tool, and one that operators and managers at Grand Canyon National Park and the neighboring Kaibab and Coconino National Forests are working to develop more fully. Operations in search and rescue, firefighting and biological studies are being used to create standard operating procedures for land management agencies nationwide.
"We're taking what we're learning and creating a guide for other agencies, like BLM (Bureau of Land Management) or other national parks to create their own programs," Jager said. "I think they can all benefit from adding this tool."
---
SUBMIT FEEDBACK
Click Below to: