Walls raised on fourth home for Williams Habitat for Humanity

Originally Published: May 9, 2017 11:05 a.m.
WILLIAMS, Ariz. — Williams area Habitat for Humanity celebrated its fourth wall raising ceremony as community members mingled with new owners, the Hernandez-Martinez family, April 29.
The foundation and framing of the home on Fulton Street are complete and community members wrote encouraging notes and signed their names on the framing before the next phase begins.
"It's all coming together pretty well," said Williams Habitat for Humanity Executive Director Francis Mazza.
Mazza said building began on the home in early April of this year. He said in the past volunteer groups helped with a lot of the construction, but this home is mostly being built by contractors.
However, the new owners are required to put in 500 hours of sweat equity, which can include volunteer hours by friends, family or other community members, Mazza said.
Mazza said the next step in the process is to install the exterior foam insulation and then work on the roof. He expects the home to be complete within a few months.
The Williams Habitat for Humanity has already purchased three more lots and plans to begin construction on their fifth home in June.
"For the first 10 years people didn't know what Habitat for Humanity was," said Habitat for Humanity treasurer Bud Parenteau. "Now it's a household word around here because they've seen a bunch of houses going up."
According to Mazza, for a family to qualify for a Habitat house, applicants may not earn more than 60 percent of the median income for Coconino County. Right now the median income is around $58,840, so for a family to qualify their maximum combined household income should be about $32,000.
But Williams Habitat has had to turn families away because they don't make enough money or their credit is bad, said Parenteau.
Williams Habitat acquires loans through the U.S. Department of Agriculture. The loans have no down payment, but require a good work history and good credit. Parenteau said that most homes cost about $200,000 to build but with the USDA adjusted interest, the family will have a low $650-670 monthly mortgage.
Mazza works with families to improve their financial situations. The previous Williams Habitat homes have been successes and the families are still in them.
Parenteau said anyone interested in applying for a Habitat home must come to a family orientation first. He said the next orientation will probably be in June.
A presentation will be made about eligibility, what it means to be a partner family, sweat equity and the responsibilities of home ownership. Assistance will be provided to complete the applications.
Applicants will be considered for a Habitat home if present housing is inadequate and they are unable to obtain adequate housing through other conventional means. Since the family selected will actually be purchasing the home from Habitat, if selected, the family must meet income guidelines and demonstrate the ability to pay the monthly payment, which will include an amount for taxes, insurance and a maintenance fund.
Applicants must bring proof of income, expenses and any necessary account numbers. Habitat members will help applicants determine eligibility and ability to pay. All information will be held in the strictest confidence.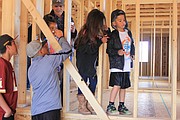 "The committee looks at the applications blind," Mazza said. "We take all identifying information out so we can say we don't favor any family."
The organization helps families organize their finances and is available to help them fix their finances if they don't qualify the first time, Parenteau said.
The chosen family will be entering into a long term relationship with Habitat, which is a Christian ministry financed through private donations and utilizing volunteer labor. Habitat's purpose is to build and sell homes at no profit to families who could not otherwise afford a home.
The Williams' Habitat recently elected officers for 2017 which include Rodger Ely as president, Patty Williams as vice president, Parenteau as treasurer and Barb Parenteau as secretary. The board is made up of volunteers and needs the support of the local community to succeed. They maintain a list of volunteers, and utilize the expertise of many local construction experts.
More information is available from Parenteau at (928) 635-4393 or Mazza (701) 361-2324.
SUBMIT FEEDBACK
Click Below to:
More like this story