Suspect in double homicide caught after car chase in Cortez
Grand Junction man suspected of killing couple in Arizona; bond set at $50,000
Originally Published: May 9, 2017 2:23 p.m.
By The Journal,
Special to the Williams-Grand Canyon News
CORTEZ, Colo. - A man suspected of killing an elderly couple in Williams, Arizona, was arrested the night of May 5 in south Cortez after a chase involving officers from three regional law enforcement agencies, the Colorado State Patrol announced May 8.
The suspect, identified as 29-year-old Derrick S. Barnett, of Grand Junction, was arrested about 10 p.m. on U.S. Highway 491 near mile marker 37, in the area of Lotsa Pasta and That'za Pizza restaurant in Cortez, according to Colorado State Patrol Capt. Adrian Driscoll.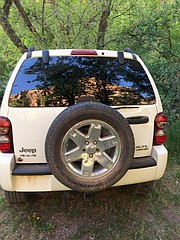 Officers from the state patrol and the Dolores and Montezuma county sheriff's offices were involved in the pursuit.
About 9:47 p.m., the officers began pursuing Barnett's 1978 Dodge Power Wagon pickup truck on Highway 491, near mile marker 49, north of County Road EE, in Montezuma County.
Members of the Montezuma County Sheriff's Office deployed tire deflation devices on U.S. 491 near County Road BB to slow the Dodge. After continuing the pursuit, CSP officer Charlie Jones pushed the Dodge sideways to a stop near the pizza restaurant, at 1020 S. Broadway.
Barnett was then arrested without incident. He sustained minor injuries but was medically cleared at Southwest Memorial Hospital.
He is being held at the Montezuma County Jail pending extradition to Arizona.
According to the Montezuma County Sheriff's Office, the state patrol charged Barnett with felony eluding, reckless driving and driving under revocation. Barnett also had multiple warrants for his arrest.
In Montezuma County Court on Monday, Judge JenniLynn Lawrence set Barnett's bond at $50,000 cash or surety on the driving charges.
In Arizona, Coconino County Sheriff Jim Driscoll announced the arrest during a 10 a.m. meeting with residents Saturday in Red Lake, Arizona. More than 200 people attended the meeting, according to the Williams Grand Canyon News.
Sheriff Driscoll said his office had received a tip May 5 that a potential suspect in the May 1 killings of Nora and Michael Dimuria, of Red Lake, was heading to Colorado. Jones said the tip also stated Barnett was armed with a .22 long rifle and a 9-mm handgun, and had possibly threatened to kill another person. Patrol officers and sheriff's deputies coordinated to search the county for his vehicle, until deputies attempted to contact him on Highway 491. Jones said he intervened when Barnett started swerving into oncoming traffic around mile marker 37. He believed the suspect was trying to cause a collision, and he said he was the only officer present who had been trained in the kind of "tactical vehicle intervention" technique he used to stop the vehicle.
"This suspect had multiple felony warrants...he's a highly violent individual," Jones said. "I feel really blessed that everyone worked so well as a team. This was a situation that could have (gone) south very quickly."
The couple's 2006 Jeep Liberty was found by residents near the Dolores River without license plates and apparently abandoned, Driscoll said.
Cortez resident Susan Pueschel said she and her partner, Richard Forster, saw the Jeep at the Box Elder Campground near Dove Creek May 3, while they were on a short camping trip. They got suspicious when they saw no sign of anyone camping at the site where the car was parked, and realized its license plates had been removed.
"That whole thing creeped me out a bit," Pueschel said. "We were the only people in the campground at the time."
She said they rummaged through the vehicle, which was unlocked, looking for any kind of registration or identification for the owners, but found nothing except a piece of paper with what they believed to be Nora Dimuria's name on it and a photo of a toddler on the floor. They took pictures of the vehicle and sent them to the Dolores County Sheriff's Office after returning home May 4.
Barnett was located after leaving the location of the Jeep in a different vehicle, and the pursuit began, according to Driscoll.
The bodies of Michael Dimuria, 67, and wife Nora Dimuria, 64, were reportedly found by a neighbor about 9 a.m. on May 2.
The couple's vehicle was reported missing from the home, the Williams News reported.
Editors note: Special thanks to the The Journal, a publication serving Southwest Colorado.

SUBMIT FEEDBACK
Click Below to: