Perkins continues family logging tradition
Second generation logger James Perkins continues family business with forest thinning and fire prevention projects

Originally Published: May 9, 2017 4:11 p.m.
WILLIAMS, Ariz. — James Perkins says he is a blessed man. A northern Arizona logger since 1966, Perkins has spent the past 51 years working in the ponderosa pines alongside his family.
"I get to do what I love to do and work with my family," he said.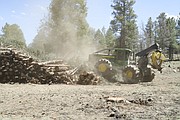 Perkins is the owner of Perkins Timber Harvesting and has lived in Williams his entire life. His company is well-known throughout Arizona for its large-scale mechanical timber harvesting projects, and is one of three logging companies in the Flagstaff-Williams area.
The company is focusing on forest health projects on state, county and city lands around Flagstaff and is currently working on a thinning project in the Country Club area and south of Flagstaff along I-17.
Family History
Perkins' father, Wesley Perkins, came to Williams from California, where he was a water well driller. He got into the logging business through his cousins, who did pulp wood logging for Southwest Lumber Mills in Snowflake, Arizona. Wesley began his own logging business contracting work from Southwest Lumber.
In 1956, when the younger Perkins turned 15, he began logging with his father while continuing his schooling in Williams.
"I was the first Perkins to graduate from high school," he said. "He wanted me to work, but I told my dad I was going to graduate. I've always been that way — always stubborn."
In 1976, Perkins bought his father's equipment and set off on his own, obtaining his first contract with Southwest Forest Industries. Over the years, several of his sons and grandsons joined the business, which now has 10 employees.
Timber Management
Logging companies in northern Arizona have experienced a roller-coaster ride as environmentalists, foresters and firefighters have dictated timber harvesting policies over the past century.
Few regulations existed in the nineteenth century regarding timber harvesting, but legendary forest fires in the late 1800s bolstered the argument by early foresters that forest fires threatened future commercial timber supplies.
U.S. foresters also began to take note of mismanagement and overuse of resources — especially trees — that had caused irrevocable harm to several Mediterranean countries, and demanded the U.S. government take action to prevent the same problem from occurring in the U.S. In response, the U.S. Forest Service was established in 1905 and timber management began.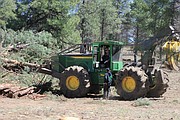 Clearcutting and heavy logging in the 1940s and 1950s, especially in the Pacific Northwest, swung the pendulum back toward conservation as people became concerned about the aesthetics of picked over forests.
From 1960 on, timber management no longer held a sacrosanct position in the use and management of the national forests. Each national forest was ordered to produce a multiple-use management plan, and timber growing and harvest no longer dominated over recreation and watershed.
During that time, the policy of fire suppression also began to be questioned when foresters realized that no new giant sequoia had grown in the fire suppressed forests of California.
The Wilderness Act was passed in 1964, which encouraged the allowance of natural processes to occur, including fire. Shortly after, in 1968, the National Park Service began to recognize fire as an ecological process, and policies were gradually changed from fire control to fire management. In 1978, the Forest Service created a policy that encouraged the use of wildland fire by prescription.
Loggers in Arizona faced their biggest obstacle in 1995, when Arizona Judge Carl Muecke prohibited logging in Southwest forests until the U.S. Forest Service agreed to follow the Endangered Species Act and evaluate the habitat of spotted owls.
The ban on logging lasted over a year and was so controversial that Muecke received anonymous death threats and was hanged in effigy by loggers.
Surviving against the odds
Perkins said his company has always been respectful of the environment and wildlife.
Its management practices follow state regulations, and are careful in the selection of trees to harvest and follow mandates to protect archaeological sites, Perkins said.
He believes the thinning work the company is doing is protecting wildlife habitat and reducing the potential for catastrophic wildfires.
Perkins said the spotted owl logging moratorium in the 1990s wiped out many logging companies in Arizona and he feels fortunate to have survived the ban.
"Basically we made it because God watched over us," he said. "He was right there through the whole thing."
Prior to the moratorium, Perkins had purchased a timber sale through the state of Arizona and he was able to work through the 18-month ban.
"It was a big sale on land and we were able to keep working," he said. "My whole life has been that way. It's like the old saying, if life gives you lemons, you make lemonade."
Despite his good fortune with the timber sale, Perkins took a detour from logging one year and purchased a tire store in Williams.
"I worked it for four months," Perkins said. "But I had to work with the public and I just couldn't take it anymore. People were already mad when they came in because they had a flat tire or something that needed to be fixed. I hated all of it — the tires, the people. I lost my butt when I sold the store, but I had to get back into logging."
Perkins is currently working a stewardship contract on state land near the Country Club area of Flagstaff. With a stewardship contract, the company is paid to thin the forest and is then given the wood.
He said the majority of his work is stewardship contracts and his company purchases private timber sales throughout northern Arizona. His company has a contract with Southwest Forest Products which purchases Perkins' logs and transports them to a wood pallet plant in Phoenix.
"We harvest around 100 acres a week, and they take 15 loads a day," he said.
The state has contracted with the company for the past nine years, mostly doing fire prevention thinning and forest restoration, Perkins said.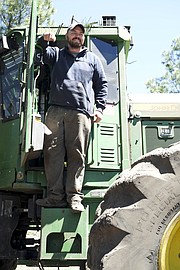 Much of the forest thinning around Flagstaff has been done by Perkins Timber Harvesting. The company completed thinning off of Old Route 66 several years ago and has contracts for thinning around Ft. Tuthill and Observatory Mesa in Flagstaff and the Clover sale in Williams.
"What we've been doing over here in Flagstaff for the last five years is forest thinning for fire prevention," he said.
Perkins said he prefers working with the state, the city of Flagstaff and Coconino County on timber sales.
Most of those sales are "cutter select" projects where the entities tell the company how they want it cut without marking the trees, Perkins said.
He said the process is much faster and gives more discretion to the loggers.
The projects with the state have helped the company survive as sawmills dried up and went out of business, Perkins said.

Perkins said the difficulty of logging in Arizona is finding a market to sell lumber.
"We are very fortunate to work with Southwest forest," he said.
Perkins is hopeful that more markets will grow now with the movement to thin the forests throughout Arizona. He said although the U.S. Forest Service has plans to clear thousands of acres of land in Arizona, their method for dealing with slash makes it difficult to make a profit.
"The main problem is the slash, the brush has to be chipped," he said. "There isn't a local chip market and you have trucking costs to incur. It slows them down."
Perkins said he is grateful for the contracts he has been able to line up and said he is at place now where the company has two years' worth of stewardship work to do.
Despite the steady stream of work, Perkins dream is to thin the forest that surrounds Williams. All 21 members of his family live and work in Williams and Perkins is fond of his home.
"I don't want to see it burn up," he said. "I know that mountain (Bill Williams) – it's not if it's going to burn, it's when is it going to burn. If that mountain ever burns, Williams is going to be gone."
Perkins said he has met with Kaibab National Forest managers and Good Earth in an effort to acquire the timber sale property for thinning.
"Right now it's in a 4FRI task order," he said. "But I'm hoping I can get it back. That's my dream
Related Stories
SUBMIT FEEDBACK
Click Below to:
More like this story