National monuments face uncertain futures after Trump orders DOI review
27 monuments designated since 1996 under review, including Bears Ears

Originally Published: May 9, 2017 10:52 a.m.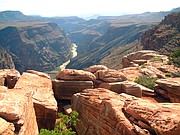 GRAND CANYON, Ariz. — With the stroke of a pen, President Donald Trump charged the Interior Department with the task of reviewing nearly 30 national monuments designated by three presidents over the past 20 years.
A total of 27 national monuments designated by former presidents Bill Clinton, George W. Bush and Barack Obama, dating back to 1996, are set to be reviewed with the possibility of having their protected status limited or revoked.
The federal government owns about 640 million acres of land nationwide — about 28 percent of the country's total area of 2.27 billion acres. Western states, however, have a much larger percentage of land owned by four different federal agencies, including Fish and Wildlife, Forest Service, National Park Service and Bureau of Land Management. Arizona clocks in at just over 48 percent, but that number is dwarfed by states like Nevada, which is owned almost in its entirety at 84.5 percent. Utah is next with 57.4 percent.
All together, the federal government owns about 47 percent of all land in the West, which includes every state west of Colorado. That number used to be much higher —the government used to own nearly all of the land in the West, either through purchase (Alaska), war (California, Arizona, Utah, New Mexico, Texas and western Colorado) or simply taking it from its original inhabitants, including Native Americans. Through land grants and the Homestead Act, the government encouraged expansion by giving away federal land to anyone willing to move west.
That changed in the early 20th century, though.
Largely because of the influence of presidents like Theodore Roosevelt, who had a well-documented love of the wild western frontier, the federal government began to pull back on the distribution of land, even as the states became more populated. The notion of protecting public lands began to resonate.
A shift in both public and political perception from land distribution to acquisition in part led to the current controversy, with government officials from states such as Utah, Nevada and Arizona, demanding greater control over lands that fall within their lines on the map.
Of the 27 tapped for review, 18 of them are in western states, including four in Arizona, including Grand Canyon-Parashant National Monument and Vermillion Cliffs, both designated by Clinton during his final year in office, on either end of Grand Canyon National Park. The Sonoran Desert and Ironwood forest in the southwestern part of the state, while less picturesque, were designated primarily to protect wildlife and ancient relics scattered throughout the roughly 625,000 acres.
One of the most controversial monuments, designated by Obama shortly before leaving office, is Bears Ears. Located in San Juan County in southeastern Utah and bordered by Grand Staircase-Escalante National Monument (another monument undergoing review) Bears Ears is comprised of about 1.3 million acres surrounding a pair of mesas held sacred by the Navajo Nation, as well as other tribes in the area. Bears Ears is also bordered by Glen Canyon National Recreation Area and Canyonlands National Park, creating a corridor of protected federal lands from Moab, Utah, all the way to Grand Canyon National Park.
Utah Reps. Jason Chavetz (R) and Rob Bishop (R), both vocal opponents of the designation, have called on Congress and the president to either
shrink or eliminate the designation, which Obama made under the Antiquities Act. The Antiquities Act, developed in 1906 and championed by Roosevelt, allows a president to proclaim a national monument without passing legislation through Congress.
"Under the Antiquities Act, there is no ability of having any input," Bishop said. "No one ever gets to have a say, you don't work out things in advance."
The problem, according to Bishop, is that it doesn't allow the president to eliminate previous designations. Only Congress can rescind a national monument. Opponents of the designation would have to gather enough votes in both houses.
Bears Ears was cited specifically for consideration in Trump's order, with Zinke under direction to produce a recommendation on the monument's fate by June 10, 2017.
The review of monuments designated under the Antiquities Act since 1996 is the opening salvo in what figures to be a long battle by conservationists, environmentalists and Native American tribes.
According to Mark Squillace, law professor at the University of Colorado and an expert on the Antiquities Act, there is legal precedent for Congress nullifying national monuments designated by the sitting president, but it's only happened about a dozen times, and the last time was 37 years ago.
In an article he penned for the New York Times, Squillace said that these revocations usually involved about 2,000 acres — as opposed to the millions presently under review — and that no president has ever attempted to rescind a monument designated by his predecessor.
Squillace also said congressional attempts to revoke monuments were uncertain.
"It turns out that the designation of national monuments is very popular with the public," he said.
Zinke, whose department is soliciting public comments on monuments for the first time in history, stressed that Trumps order doesn't strip any monuments of their designations, nor does it loosen any environmental or conservation restrictions currently in place.
It's a gray area that will likely be in contention for many years.
"There's no doubt the president has the authority to amend a monument," Zinke said at his confirmation hearing. "It will be interesting to see whether the president has the authority to nullify a monument. Legally, it's untested. I would think that if the president would nullify a monument, it would be challenged and then the court would determine whether or not the legal framework allows it or not."
Private companies, environmental groups and Native American tribes have all vowed to sue the administration — outdoor outfitter and clothing maker Patagonia has said it will sue the administration if it orders the revocation of any monuments, a coalition of five Southwestern tribes (Navajo, Hopi, Ute Mountain Ute, Ute Indian of the Uintah Ouray and Zuni Tribes) and the Tucson-based Center for Biological Diversity has indicated it will sue "if warranted" over Arizona monuments in the crosshairs.
Bears Ears will be the first test of any president's ability to modify previously-designated monuments, or tinker with the Antiquities Act, without the express approval of Congress.
SUBMIT FEEDBACK
Click Below to:
More like this story