Cowgirl Coffee Cake Company gets new menu
Originally Published: May 9, 2017 4:10 p.m.
Cowgirl Coffee Cake Company has spent the last year indulging the taste buds of locals and tourists alike with their signature coffee cake and out-of-this world Danishes and cheesecakes. Now owners Leighton Wildrick and Tanna Wagenmann are expanding their operation.
Cowgirl Coffee Cake Co. has been open since June 1.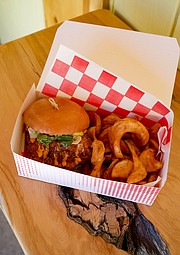 In February, they closed for six weeks to build a new kitchen, add an indoor seating area and expand their menu.
"A lot of times here it is either too windy or too cold or too hot to sit outside or all the tables are taken so we needed more seating. I wanted to have some indoor seating because it can be inclement, so that's what we did," Wildrick said.
With the bakery still in the back and the shop in the front, Wildrick and Wagenmann added extra seating space after the ATV store, which adjoined Cowgirl Coffee Cake Co. on their right, went out of business,
"It only seemed logical that we have the whole place," Wildrick said.
The kitchen updates and renovations took almost six weeks, which meant closing the shop through the month of February.
"Because of construction. You can't make food the way we do with construction," Wildrick said. "We re-opened March 15 and things are just going great. People love the food."
In addition to their original pastries and goodies, Wildrick and Wagenmann added cheeseburgers, hot dogs, BLT's and fried chicken sandwiches to the menu.
"All the buns for the hamburgers and BLT's are handmade ham and cheese croissants (there's a little black forest ham with smoked Gouda and Swiss cheese inside). It adds a little more flavor and salt and it's just a different way of doing things, plus it tastes phenomenal," Wildrick said.
Wagenmann also makes the hot dog buns and special buns for the fried chicken sandwich.
Originally from Philadelphia, Wildrick and Wagenmann have dozens of years of experience in the culinary business.
Wagenmann is a trained baker who attended the Culinary Institute of New York and worked for several years in high-end restaurants on the east coast. They left the area and spent the next 20 years in Minnesota and North Dakota.
Wildrick ran a mobile butcher shop and meat processing plant in the North Dakota oil fields and then contracted with an Air Force base making homemade sausages, burgers and hand cut steaks.
Wagenmann helped with those businesses and continued working as a chef and baker in numerous restaurants.
With a background in meat processing, Wildrick said the beef he orders for his hamburgers is custom blended for the restaurant by French's Meats in Scottsdale. Once a week, Wildrick drives to Scottsdale to pick up fresh ground beef for the burgers.
"I owned a butcher shop in North Dakota and I know meat. I wanted to sort of replicate something we used on a food truck up there, which we always sold out of – immediately," he said. "We were finally able to achieve that with French's.
Burgers and sandwiches come with a side of potato wedges with a choice of either plain, buffalo sauce or parmesan seasoning.

"We want to control the quality. Everything comes out the same – it comes out right. Tanna is a professional, she's been doing this for 28 years," Wildrick said. "Everything's got to be right. We spent a good bit of the six weeks shut down experimenting with the croissants, rolls and hamburgers and everything to make sure it is right. It is very different because everything is home cooked and cooked to order."
Cowgirl Coffee Cake Company is located at 420 W. Route 66 in Williams. Their hours are Tuesday through Saturday from 8 a.m. to 5 p.m.
SUBMIT FEEDBACK
Click Below to:
More like this story