Victims identified in double homicide in Red Lake
Originally Published: May 3, 2017 3:03 p.m.
Updated as of Wednesday, May 3, 2017 3:10 PM
WILLIAMS, Ariz. – Detectives with Coconino County Sheriff's Office (CCSO) and a team from the Arizona Department of Public Safety comprised of investigators and crime scene technicians are on their second day of processing the scene of a double homicide in the community of Red Lake, eight miles north of Williams.
The victims have been identified as the homeowners, 67-year-old Michael Dimuria and his 64-year-old wife Nora Dimuria.
At approximately 9 a.m. May 2, the sheriff's office received a call from a neighbor of the victims reporting he had found his neighbor dead. The couple's white 2006 4-door Jeep Liberty bearing Arizona license plate of 123-VDL was reported missing from the home.
Brian Tozer, a lieutenant with CCSO, said the vehicle is still missing.
"At this point in time we are still looking for the vehicle," he said. "We have been scouring the area here. We had a plane looking on back roads and in the area. I don't believe that it is still in the area here – as many people as we've had out looking for it, but until we find it, it is hard to say."
Tozer said the sheriff's office is asking for any tips or information the public might have concerning the homicides and are asking for help in locating the couple's vehicle.
"Anything that is suspicious in the area – vehicles or people that have been here before this or might be in the area, we always encourage people to call in on those things," Tozer said. "We can't follow up on things that we don't get calls on."
Following a series of burglaries in March and now a double homicide in the Red Lake community, Coconino County Sheriff Jim Driscoll will hold a community meeting Saturday, May 6 at 10 a.m. at High Country Fire Rescue, 6593 High Country Lane, Williams on State Route 64.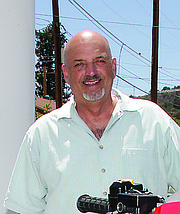 Tozer said the sheriff will address safety concerns and any other questions community members might have.
"The sheriff will be there and he wants to talk specifically about the burglaries that have happened in the Red Lake area and a little bit about this," Tozer said. "We can't talk too much (about the homicides) because we don't want to harm the investigation that's ongoing, but he'll answer questions from the community and will talk about safety. The meeting will be a good thing for people to be at. If they have questions that's where they can pose those questions."
Tozer said the sheriff's office wants to reassure the community that the investigation is ongoing and they are aware of the public's concern for their safety.
"I know people are concerned about being safe in their homes. Anytime you have a burglary or something tragic like this that happens, of course you're going to think about whether you're safe or you're family's safe," he said.
Additionally, Tozer said a public alert was not sent out to the public because of the nature of the crime and also because the sheriff's office is handling the situation.
"CodeRed is not really used for this specific type of thing because the last thing we want to do is panic people that there's somebody running around here randomly harming people because that's not the case," he said. "There's a fine line on what you want to notify people on and what you don't because of causing panic. I live in the area myself and I don't believe that there's still somebody hanging around after this tragedy who is going to stay here and harm other people."
Tozer said the sheriff's department and other agencies are actively working on the investigation and are following through on any leads received.
"We don't know that there is a killer in the area. We know that there is something that is obviously really bad and tragic that happened here, but that doesn't mean that the person is still here, in (this) area," Tozer said. "We've already had comments from people (saying), 'I'm armed and ready to go.' And we don't need vigilante type of things going on and people thinking someone bad is around the corner. This is a very good neighborhood. Something very tragic happened and we're actively looking for those people."
Anyone with information about this case is asked to call CCSO at, (928) 774-4523.
Related Stories
SUBMIT FEEDBACK
Click Below to:
More like this story