Lady Vikings advance to second round in state playoffs
Originally Published: May 2, 2017 8:34 a.m.
The Lady Vikes powered through their first round state playoff game with the Ash Fork Spartans April 29 winning, 19-3.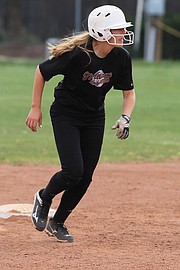 The Vikings advance into the playoffs behind power hitter Jaden Alvarado who is batting .672 with 58 plate appearances this season. She has hit two homeruns, three triples and five doubles this season with 39 total hits and 43 RBIs.
Freshman Jazlyn Romero leads the Vikings in homeruns with five over-the-fence blasts to carry her .368 batting average. She has two triples, three doubles with 25 hits and 44 RBIs this season.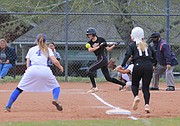 Carli Grantham and Maegan Ford are both batting over .400, with Grantham at .415 and Ford at .417. Grantham has three doubles, two triples, 27 hits and 36 RBIs this season. Ford has one homerun this season, two doubles, 15 hits and 17 RBIs.
Six more Vikings are batting over .300: Rylie Heap, Maddie Jensen, Nayeli Salceda, Amaryssa Orozco, and Anna Chaney.
"We are hitting really well this season and I'm hoping it carries on through Friday," Grantham said.
Grantham said the Vikings have played well against Joseph City, but the game will be a battle on Friday.
"They are definitely a good team," Grantham said. "The girls are motivated and their confidence level is high. We are looking for a win for sure."
The Lady Vikes beat Joseph City in both regular season games this year. However, Williams got behind in their first game with the Warriors and battled to bring in a 17-14 win. Their home game with Joseph City was an even match with the Lady Vikes taking the win 6-4.
"We're definitely playing some of our better softball right now, which is very timely," Grantham said. "It's a good time to be playing at our best."
The fourth ranked Lady Vikings face fifth ranked Joseph City at Rose Mofford Complex at 5 p.m May 5.
The winner of the quarterfinal game will play the following day, May 6, at 10:15 a.m. at the same location. The winner will face either number one ranked Ray or number nine ranked Hayden.
SUBMIT FEEDBACK
Click Below to:
More like this story