Williams schools announce March Students of the Month
Originally Published: March 28, 2017 12:40 p.m.
Williams Unified School District announced the March Students of the Month (SOM).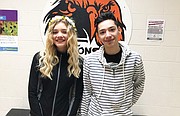 Kindergarten SOM is Kelly Gonzalez. Kelly's teachers said he is an amazing presence in their classroom; he is a born leader. He is the smallest boy, but commands attention in a truly diplomatic and inclusive way. She can always count on Kelly to do the right thing, to be a good friend, and to try his best. She looks forward to seeing what Kelly does in the years to come.
Aurora Hamberger is the first grade SOM. Her teacher said she has been doing a fantastic job this year and said she loves to help her teacher. She is very caring and often concerned about her classmates. Aurora does a great job on her work and takes her time. Her teacher is proud of how much she has grown this year.

The second grade SOM is Kyle Mendoza. Kyle's teachers said he is always willing to help others, he stays on task and tries his best. He is responsible and respectful without having to be asked. He actively participates in class and shows up ready to learn.
The third grade SOM is Aiden Uebel. Aiden's teacher said he is very conscientious about his work and does his very best on all assignments. She said she can count on him to do whatever is expected when asked. He is respectful of others and works hard at being a good example in group activities. He is always a high scorer on Galileo Benchmarks due to his desire to achieve. She is very proud of Aiden and knows he will someday do big things in life. She is happy to have him in class.

The fourth grade SOM is Kaytlynn Fensel. Kaytlynn's teachers said she is a dedicated student who not only shows compassion to all students, but also encourages all students to be the best version of themselves.
Kindle Harris is the fifth grade SOM. Kindle's teacher said she is always on top of her work and putting her best foot forward. She is always eager to get the highest grade possible and is never shy about making up a missed assignment or correcting an assignment with mistakes. She sees mistakes, not as failures, but as learning opportunities. This is truly valued in an upper elementary student.
Luis Urias is the male middle school SOM. His teachers say he is always making everyone laugh, including his teachers. His work ethic keeps improving, and he is truly becoming a well-rounded young man. Luis often goes overlooked because of his quiet nature; but behind that shy exterior is a young man that has grown up a lot since sixth grade. Luis pushes his way through challenges. He asks questions to find his way to a true understanding. He is a true role model among his peers.
Kashaeda Page is the female middle school SOM. Her teachers say she has been working tirelessly all year. She is always positive and friendly. She is supportive to everyone and is an all-around great kid. Her future is blindingly bright. Kashaeda is an amazing leader, student, and human being. She shows compassion for her fellow students. Kashaeda is the eighth grade class president this year and has done a wonderful job raising money and rallying her class together. Kashaeda is a student that teachers use as an example and continue to tell stories about year after year. She is one of the most motivated, caring and brilliant students.
SUBMIT FEEDBACK
Click Below to:
More like this story