Visitation at Glen Canyon, Rainbow Bridge climbs 29 percent
Glen Canyon Dam Recreation Area and Rainbow Bridge National Monument saw a combined 3.3 million visitors in 2016
Originally Published: March 28, 2017 10:24 a.m.
PAGE, Ariz. — The combined number of visitors to Glen Canyon National Recreation Area and Rainbow Bridge National Monument increased 29.3 percent in 2016.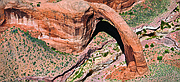 Visitation reached 3,325,894 in 2016, up 753,531 over 2015 and marking the highest total since 1993. Of those visitors, 1,422,353 stayed at Glen Canyon overnight.
"Millions of people each year enjoy the stunning views and wide range of recreational opportunities at Glen Canyon and Rainbow Bridge," said William Shott, superintendent of Glen Canyon National Recreation Area and Rainbow Bridge National Monument. "Glen Canyon is best known for the boating opportunities our 186-mile-long Lake Powell provides, but the recent increase in visitation shows more people are recognizing the unparalleled land-based recreation options and cultural and historic resources within our 1.25 million acres."
Some of Glen Canyon's uniquely beautiful but lesser-known areas such as the Escalante region, Muley Point and the Orange Cliffs are becoming hotter attractions every year, Shott said.
Glen Canyon is actively revising its backcountry management plan and developing an off-road vehicle management plan to continue encouraging land-based recreation while minimizing impacts to natural, cultural and historic resources.
In 2015, visitors to Glen Canyon and Rainbow Bridge supported 2,440 jobs in the local area, providing a $195 million benefit to the local economy. Economic impact data are not yet available for 2016 but are expected to reflect a visitation-driven increase.
Nationwide visitation to national parks in 2016, the National Park Service's centennial year, increased 7.7 percent to 330,971,689, the highest total since national parks began tracking visitation in 1904.
"We expected more visitors in 2016 as the NPS celebrated its Centennial with special events and activities," Acting National Park Service Director Michael T. Reynolds said in a press release yesterday, "but these numbers really show the depth of feeling people have for their national parks, especially considering that increased visitation was recorded not just at the biggest and best known parks but at smaller historical and cultural sites as well."
The 26 parks with the greatest visitation accounted for half of all national park visitors in 2016, but visitation grew more — 13 percent versus 9 percent — at parks with more modest annual visitation. In addition, 77 of the 382 national parks that track visitor use reported their highest annual visitation on record.
Reynolds said NPS centennial year programs like BioBlitz species-identification events with community members helped drive visitation. He also credited the Find Your Park campaign launched with the National Park Foundation and the Every Kid in a Park initiative, which offers fourth graders' families a free one-year parks pass, with reaching new audiences and encouraging visits.
SUBMIT FEEDBACK
Click Below to:
More like this story