Texas woman rescued after being stranded five days near Havasupai reservation

Originally Published: March 23, 2017 2:30 p.m.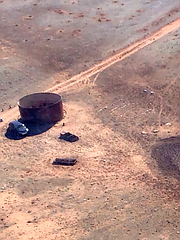 GRAND CANYON, Ariz. – After being stranded for five days along a remote stretch of road on the Havasupai Reservation, 24-year-old Amber VanHecke was rescued by the Arizona Department of Public Safety.
VanHecke, who sat out from Texas on a 10-day trip to hike the Grand Canyon, was driving toward the Havasupai Falls trailhead March 12 when her GPS device suggested a right turn off the highway. VanHecke said the device indicated that it was approximately 40 miles to the next highway, where she thought she could refill her gas tank.
In a Facebook post detailing the ordeal, VanHecke said after about 35 miles, the road disappeared – she continued on, thinking that the dirt road had been washed out, before the trail stopped abruptly at a fence with no road in sight. With darkness setting in, her GPS device lost signal, and she began to retrace her steps in hopes of reaching the road and finding help. She did find the road and a large water tank, but her vehicle was completely out of fuel, stranding her out in the wilderness.
VanHecke began rationing her food and water and constructed signs and markers to alert passing motorists, including a "help" sign large enough to be seen from the helicopter that was later dispatched to rescue her.
"I spent five days constructing various signs to help someone find me," she said. "… I made a "help" sign on the third day that I got to about 20-30 feet tall for the letters. I also tried a signal fire."
She also constructed a makeshift road block after a passing truck failed to notice her.
After five days, on March 17, VanHecke decided to hike east along the road in hopes of finding a cell phone signal to call 911. She was able to connect for less than a minute about 11 miles down the road, but the Coconino County Sheriff's Department, which received the call, said they were unable to pinpoint her exact location.
Deputies and troopers with the Air Rescue unit used what information they had to determine VanHecke's likely location.
Pilot Jonah Nieves and trooper paramedic Edgar Bissonette were immediately dispatched to the area, where they began a search on Anita Road between Indian Route 18 and US 64. The crew was able to locate the vehicle and VanHecke's sign for help, although VanHecke herself was not there. Bissonette said she had left a note explaining that she had begun hiking east along the road, so he and Nieves flew in that direction until they located her.
Bissonette and Nieves credited VanHecke's preparedness and actions helped her survive and eventually be rescued.
"If she didn't leave notes, then you're like, 'Is this the person we're looking for?' There are a lot more questions up in the air," Nieves said. "She ran out of gas ... but she was a survivor. She did a lot of things that helped her survive."
Bissonette added that VanHecke "did everything right," including having enough food and water to sustain a long trip.
"She was smart and prepared," Bissonette said in a press release. "Even though she was down to her last bit of water, it kept her going."
After being flown to Flagstaff for medical treatment, VanHecke was released from the hospital with a clean bill of health.
In describing her vacation-gone-wrong, she noted that even though she feels a bit anxious, she won't let one bad experience curtail her future travel plans.
"I will still travel because one bad experience won't stop me from nourishing my soul with worldly experiences," she told interviewers.
VanHecke also recommends that adventuring solo hikers be extra prepared when they set out in remote areas with emergency water, a gas can and a hard copy map.
GPS devices are notoriously unreliable in the vast swaths of wilderness in northern Arizona, leading to more than one emergency situation in the past few months. In December, Karen Klein and her family were rescued on the North Rim on Christmas Eve when their GPS device indicated they could travel along a forest service road after learning Highway 67 was closed for the winter. Klein hiked more than 25 miles in a driving snowstorm searching for help before her husband was able to make an emergency call from a nearby hilltop. Earlier this year in February, a tour bus became stranded in the mud after a GPS device indicated the driver could save a few miles by taking an unpaved forest service road to Page, rather than taking Highway 180 all the way to Flagstaff. The bus became stuck in the mud and around 50 tourists had to be evacuated by private and rescue vehicles to Valle for the night.
Nieves, who told interviewers that missions like this were the reason he joined DPS, encourages hikers to go back to the basics in remote areas and use maps when GPS systems fail. He also advised against going out with "just enough gas." He explained that usually the people he encounters think they will make it with the gas that they have, but he said people need to account for taking wrong turns and things that lead to higher gas usage.
SUBMIT FEEDBACK
Click Below to:
More like this story