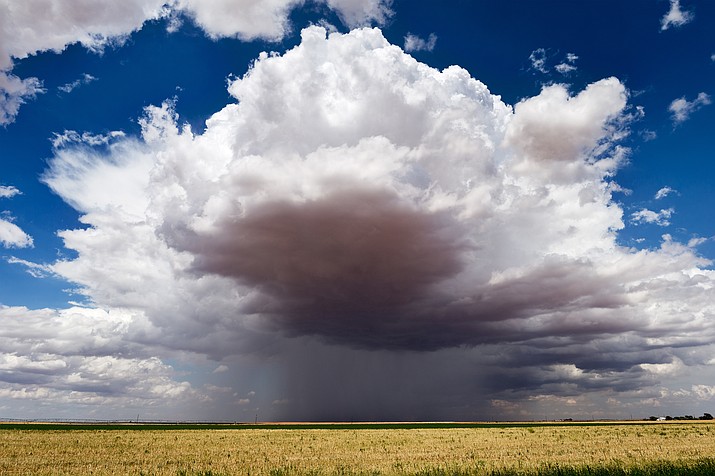 Originally Published: June 27, 2017 8:49 a.m.
According to Arizona folklore, the summer monsoon season will begin one week after the cicadas begin to sing at night.
That's good news for those in the Williams area, because the cicadas are singing.
"We have an official designation for monsoon season and that is June 15 through Sept. 30," said Meagan Taylor, meteorologist for the National Weather Service in Flagstaff. "So officially we are in the monsoon season."
According to the National Weather Service, monsoon is traditionally defined as a seasonal reversing of the prevailing winds, accompanied by seasonal changes in precipitation. The Southwest is famous for its monsoon storms, haboobs (dust storms) and tremendous flash flooding.
The prevailing west or northwest winds of winter change in late June or early July and begin to flow from the south or southeast, bringing moisture up from the Gulf of Mexico or Gulf of California.
Taylor said the Flagstaff NWS office works with the Climate Prediction Center for long range forecasts, but there has been no clear indication of weather this year will have an above average or below average monsoon season.
"Some years we might have an indication that it might be a little wetter of a season, but we don't have a clear indication this year of which way the odds are going to tilt," she said.
Though northern Arizona has been experiencing a few light thunderstorms recently, the NWS doesn't believe the monsoon season has really started.
"We've had a little bit of moisture around and seen some thunderstorm activity, but we don't see the indication that we are going to get into the deep monsoon moisture this week or next week," Taylor said on June 21.
The monsoon season occurs when there is a shift in wind patterns during the summer, which occurs as Mexico and the Southwestern U.S. warm under intense solar heating.
"(The season) is associated with an increase in moisture, but the actual definition is a shift in the winds that allows moisture to move northward into Arizona," Taylor said.
The Gulf of California, a narrow body of water surrounded by mountains, is particularly important for low-level moisture transport into Arizona and Sonora. Upper level moisture is also transported into the region, mainly from the Gulf of Mexico by easterly winds aloft.
As the forests of the Sierra Madre Occidental green up from the initial monsoon rains, evaporation and plant transpiration add additional moisture to the atmosphere which then flows into Arizona.
If the southern plains receive abundant rain, that area can also serve as moisture source for the Southwest.
The rainfall that occurs during the monsoon season is not typically continuous. There are usually bursts of heavy rain with breaks in between storms. Monsoon precipitation accounts for a substantial portion of annual precipitation in northwest Mexico and the Southwestern U.S.. Many of these areas receive over half their annual precipitation from the monsoon.
More like this story