Man critical following tent trailer explosion at Dogtown
Originally Published: June 27, 2017 8:29 a.m.
Emergency response crews have been busy in Williams over the past week dealing with the steady influx of visitors escaping the heat of the valley.
On July 17, a Phoenix man was injured in a trailer explosion at a campsite near Dogtown Lake according to the Coconino County Sheriff's Office.
The 44-year old man was camping with three other adults and an infant in a pop-up trailer when an explosion occurred around 7 a.m. inside the trailer.
Officers determined the man was attempting to light a cooking stove when a flash explosion occurred, causing the man to suffer burns on the front of his body.
"I'm not sure of the exact cause of the explosion," said Coconino County Sheriff's Office Lieutenant Brian Tozer. "But this happens several times each year."
Tozer said an enclosed camper can quickly fill with propane if a burner is left on.
"It could have been a leak," Tozer said. "But gas accumulates quickly and once it lights you get a flash and people get burned."
The man was transported by private vehicle to Williams, where he was airlifted via Guardian Air to Phoenix for extensive burns to his face and chest, and inhalation burns to his respiratory system according to Williams Assistant Fire Chief John Moede.
A 44-year-old female was also transported to Flagstaff Medical Center for burns.
Tozer said the Sheriff's Office has responded to three or four RV fire incidents in the last month around the county.
"A lot of time we find people with older campers who use open-faced heaters to heat," he said. "They will ignite blankets or comforters. Those campers will go up quickly."
Other law enforcement, EMS and fire responses
On June 18, deputies and firefighters from High Country and Sherwood Fire Departments, along with Lifeline Ambulance, Kaibab National Forest, Victim Witness and the Red Cross responded to a mobile home fire in the Red Lake area off of Highway 64.
The fire started at 10:30 a.m. and by the time officers arrived, the home was fully engulfed.
"Kids were playing with matches while a parent was sleeping," Tozer said. "Two younger kids found some matches and ignited a couch that was outside the residence."
Tozer said the parents smelled the smoke and were able to get everyone out of the residence.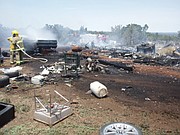 On June 18 at 1 p.m., County deputies and Kaibab National Forest firefighters responded to Devil Dog Road for a report of a wildland fire.
When officers arrived they found a bystander attempting to put out a small fire. The man said he had witnessed another person attempting to put out the fire, but when the bystander stopped and called 911, the man got in his car and drove away.
Deputies and local law enforcement located the vehicle and are investigating the incident.
On June 21, Williams Police Department, Williams Fire Department and Kaibab National Forest responded to a report of a wildland in the 1000 block of Route 66 in Williams.
When the patrol officer arrived, he observed smoke coming from a field across from the Williams Cemetery and BNSF railroad tracks, and a man walking through the field in distress.
The man had no shoes and appeared to have burns on his feet and inhalation burns to his lungs. Lifeline ambulance was dispatched and transported the man the Flagstaff Medical Center.
Upon investigation, the officer determined the man was a transient who was possibly under the influence of alcohol. While resting behind an abandoned cabin, he had fallen asleep while smoking. When he awoke, the field was on fire and he attempted to put the flames out by stepping on them.
Firefighters were able to cut a lock off a gate to gain access to the property and extinguish the fire. The fire was less than one acre.
SUBMIT FEEDBACK
Click Below to:
More like this story