Drone delays firefighter response to wildfire in Williams
Originally Published: June 20, 2017 2:38 p.m.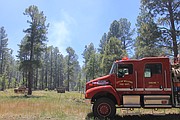 Firefighters contained a small wildfire June 15 in Williams near Oak and 11th streets, despite a drone flying over the area that temporarily delayed the arrival of a helicopter attempting to drop water on the blaze.
The Williams Fire, which was reported to the Williams Dispatch Center at about 12:45 p.m. and said to be located on the southwest side of Cemetery Hill, was less than a quarter mile away from residences in the area. Kaibab National Forest fire officials, along with the Williams Fire Department, arrived on scene and immediately requested that a helicopter located at the Williams Airport be dispatched to drop water on the fire.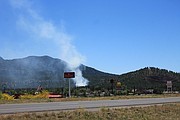 As the helicopter was preparing to launch, incident commander Mike Uebel reported an unmanned aerial vehicle, also known as a drone, was flying over the fire. The helicopter was advised to stand down until representatives from the Coconino County Sheriff's Office could find the operator and get the drone cleared from the area.
The drone eventually departed the fire area, and Uebel was able to guide the helicopter into the location to make water drops. Other firefighting resources working to suppress the Williams Fire included four USFS engines and a dozer, and s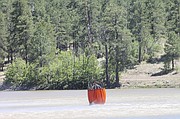 everal city engines. While the Williams Fire was contained at less than an acre in size, the situation could have ended very differently, according to fire officials.
"People may be flying a drone thinking it's cool to get video footage of a wildfire, but they don't realize the impacts they have on our ability to do our jobs," Uebel said. "Sometimes your actions that seem harmless can have major impacts to the safety of firefighters and to the safety of our community. If we can't respond, we can't put out the fire."
Kaibab officials would like to remind people that members of the public should never fly an unmanned aerial vehicle over or near a wildfire. Unauthorized drone flights could cause serious injury or death to firefighters in the air or firefighters and members of the public on the ground. Firefighting aircraft, such as air attack, lead planes, airtankers and helicopters, typically fly in smoky, windy and turbulent conditions. Safety depends on knowing what other aircraft are operating in the airspace and where they are at all times. This is compromised by the presence of unauthorized drones.
"We don't want recreational drone use to impede the response of aerial resources. On another day when conditions weren't as favorable for us, we could have had a different outcome," said Jeremy Human, fire management officer for the Williams and Tusayan ranger districts.
The cause of the fire is under investigation. The drone never reappeared and the operator was not found.
Representatives from Coconino County Sheriff's Office, Williams Police Department and Williams Fire Department all assisted Kaibab National Forest fire officials in the fire suppression effort.
Drones and wildfires
According to the FAA, there were 1,274 reported drone sightings reported by aircraft pilots in 2016, and several of those were reports of drone strikes to the aircraft. Large airliners and airports were impacted by hobby drones last year, and the low-flying toys have now become a common threat to aircraft involved with wildfire suppression efforts in the western United States.
Although many people have a hard time believing a small hobby drone can damage a large aircraft, evidence has shown that drones striking an aircraft are infinitely worse than bird strikes.
According to new studies reported in Popular Mechanics magazine, impacts from drones have the potential to cause significant damage to aircraft. Simulations show that when a bird goes into an engine, it is essentially liquidized by spinning blades. However, a drone is made of much denser material and is more like a "rock going through the engine," according to researcher Javin Bayandor.
That type of impact can leave an engine blade deformed, broken or fragmented, disabling or unbalancing the aircraft. A strike to the windshield can also disable the aircraft and possibly injure or kill a pilot.
Bird strike data are regularly gathered by the FAA. Birds are known to be a significant threat to flight safety, and have caused a number of accidents with human casualties. Most accidents occur when a large bird is drawn into an engine, causing damage. The most famous recent incident involving a bird strike was the downing of US Airways Flight 1549 that was ditched in the Hudson River after engine failure most likely cause by a flock of geese. All 150 passengers and five crew members survived after the water landing.
Unauthorized use of drones can lead to fines and criminal charges. According to the USFS, flying a drone over a wildfire is against federal law, carrying the potential for jail time and fines up to $25,000.
SUBMIT FEEDBACK
Click Below to:
More like this story