Coconino County seeking extradition of Derrick Barnett in double homicide
Originally Published: June 20, 2017 3:50 p.m.
Derrick Barnett, 29, arrested May 5 for the murder of Red Lake residents Nora and Michael Dimuria, could soon be extradited to Arizona where he faces charges of two counts of first-degree murder.
On May 9, Coconino County Sheriff's Office (CCSO) obtained a criminal complaint and arrest warrant for Barnett signed by Williams Municipal and Justice Court Judge Rob Krombeen. Barnett's bond was set at $1 million.
Barnett faces charges in Colorado and Arizona. While he could have volunteered for extradition back to Arizona, Barnett chose not to.
A warrant has been signed requesting extradition back to Arizona by Gov. Doug Ducey, according to Rex Gilliland with CCSO. However, a warrant signed by the governor of Colorado, John Hickenlooper, is necessary to extradite Barnett since he refused to waive his rights to oppose extradition and requested to go to trial for his Colorado charges first.
Gilliland said Coconino County is waiting for approval from Colorado before they can extradite Barnett. He could not say how long it would take to receive that approval.
At approximately 9 a.m. May 2, CCSO received a call from a neighbor of the Dimurias reporting he had found his neighbor dead. The couple's white 2006 4-door Jeep Liberty was reported missing from the home.
On the morning of May 5, the sheriff's office received a tip from an area resident that a potential suspect was fleeing to Colorado.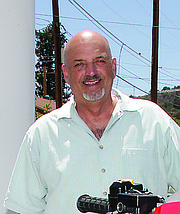 Officers conducted interviews and worked with Colorado agencies to locate the vehicle, which was found near Dolores, Colorado.
Driscoll said the vehicle was found by community members, who reported it as suspicious, without license plates and possibly abandoned. Local law enforcement located the possible suspect in the same area and during surveillance the suspect left the scene in a different vehicle. A high speed pursuit ensued while the suspect fired upon pursuing law enforcement officers.
Barnett, a resident of Grand Junction, Colorado, was arrested on outstanding Colorado warrants at that time and is currently in custody in Montezuma County, Colorado.
Following the arrest, detectives from CCSO continued their investigation in Colorado.
Related Stories
SUBMIT FEEDBACK
Click Below to:
More like this story