Art, spirituality and serenity: Hopi silversmith Duane Tawahongva infuses Hopi beliefs into art
Hopi silversmith Duane Tawahongva infuses Hopi beliefs into art

Originally Published: June 20, 2017 10:43 a.m.
GRAND CANYON, Ariz. — Silversmithing is a Hopi tradition dating back generations, and Duane Tawahongva has taken the art of overlay silversmithing and made it his own.
Born in Second Mesa on the Hopi Reservation, Tawahongva now lives in Mishongnovi Village, where he has his studio. He is a self-taught artist — creating an array of jewelry, from belt buckles to rings set with semi-precious stones. His designs are often inspired by petroglyphs found at the sacred Dawa-ki site on the Hopi Reservation. He incorporates traditional Hopi symbols and clan designs, including his own Coyote Clan.
But Tawahongva also focuses on Hopi spirituality — concepts that have no concrete designs of their own. Tawahongva creates his own unique designs based on these concepts, such as the 'three generations' and designs based on Hopi prayers.
Native American arts are often passed down from parents to children, but Tawahongva said he learned the craft from his sisters, who in turn learned it from their husbands.
"I have two older sisters, and they both picked up the craft from their husbands," he said. "I've been doing this work for 29 years now."
His sisters, he said, do silversmithing as more of a hobby now. Both have full-time jobs and families.
But Tawahongva dedicated his career to the art of silversmithing, and he frequently welcomes visitors to his Mishongnovi studio, where he demonstates the intricate, and often lengthy, overlay process.
In order to get the hallmark carved appearance, Tawahongva bonds two thin pieces of silver together. The pieces are cut by hand from templates he's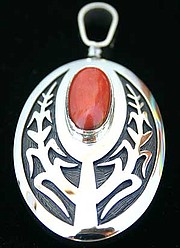 created over the years. To create the designs, Tawahongva places the stencil over the silver and etches the design into the soft metal using a sharp instrument. He then punctures the metal, creating a hold large enough to work in the tiny saw blade he will use to cut out the intricate pieces. All of his designs, from the largest belt buckles to the tiniest earrings, are cut by hand this way.
After the design is cut and the rough edges smoothed, Tawahongva bonds the two pieces — the solid one and the one with the cut design — together with silver solder, flux and a torch. The flux allows the solder to flow evenly over the silver, creating a smooth finish. The bond is permanent, but the inlay effect requires another process.
Tawahongva then dips the piece in Liver of Sulphur, a chemical compound that oxidizes the silver and gives it a black appearance. After the silver is oxidized, Tawahongva places the piece in a boric acid solution to remove the excess Liver of Sulphur and clean off any imperfections and any leftover flux that was used to bond the two pieces together.
At this point, the piece is finished and ready to be polished into the gleaming sterling silver creations available for purchase. Using a coarse-bristled brush treated with bobbing compound, Tawahongva turns the piece over and over — this process prepares the raw metal for polishing and removes the firescale that has built up on the metal from the torch.
After the piece is prepped and ready to be polished, Tawahongva buffs it smooth with a polishing brush and finishes the piece with a good scrubbing — Windex™ and an old toothbrush for best results, he said. After a final rinse and dry, the piece is ready to be sold.
It's a tedious process, and one that Tawahongva repeats with relaxed precision at art shows, cultural demonstrations and his studio in Second Mesa. He has been a cultural demonstrator at Desert View three times, and frequently gives presentations for visitors and community members in his private studio.
He also travels frequently to art shows all over the country. Although his two older sisters and their husbands are also talented silversmiths, Tawahongva says he is the only one who travels the country displaying his craft.
"I draw inspiration from the beauty of Hopi lands and my Hopi spiritual beliefs," he said. "My sincere hope is that my jewelry bring blessings and serenity to all who wear it."
Tawahongva's creations can be viewed on his website at www.duanetawahongva.com. He has many traditional pieces available for purchase but can also create custom designs. Tawahongva can be reached at (928) 737-9359 or info@duanetawahongva.com.
More like this story
SUBMIT FEEDBACK
Click Below to: