American Legion celebrates Flag Day with June 14 ceremony
Originally Published: June 20, 2017 11:02 a.m.
"I am what you make me; nothing more. I swing before your eyes as a bright gleam of color, a symbol of yourself" ~ Franklin K. Lane, Secretary of the Interior at a 1914 Flag Day ceremony.
To show patriotism and honor the American flag, a Flag Day ceremony was held at American Legion Cordova Post 13 June 14.
The 'Dignified Disposal of Unserviceable Flags' ceremony was put on by the American Legion with members of the VFW also participating. More than 100 unserviceable flags were disposed.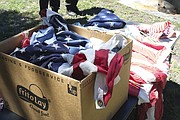 Roger Ely, a member of American Legion Cordova Post 13 said Flag Day is a lesser known holiday but is just as important. He said Flag Day is an opportunity for the public to show its patriotism and honor 'Old Glory.'
"Flag day is our opportunity to display the flag with pride," Ely said. "It is not a holiday to fly the flag at half-staff. It is a chance to display the flag with dignity and honor."
While the Fourth of July is traditionally celebrated as America's birthday, the idea for an annual celebration of the flag originated in 1885 by a schoolteacher in Wisconsin. June 14 was the anniversary of the official adoption of the Stars and Stripes as the United States Flag. Over the years communities continued to celebrate the flag's birthday. Flag Day was officially established by President Woodrow Wilson in 1916 and on August 3, 1949 President Harry S. Truman signed an Act of Congress designating June 14 of each year as Flag Day.
According to the American Legion Officer's Guide and Manual of Ceremonies, the American flag should be displayed only from sunrise to sunset on buildings and on flagstaffs. Flags may be displayed 24 hours a day if properly illuminated during the hours of darkness. The flag should not be displayed on days with inclement weather. The flag, when it is no longer a fitting emblem for display should be destroyed in a dignified way, preferably by burning.
Flags can be dropped off for disposal at the American Legion Cordova Post 13, 425 W. Grant Avenue and at the corner of Grand Canyon VFW Post at 110 E. Route 66. Members of American Legion Cordova Post 13 picks up and disposes of flags twice a year on Flag Day and Veterans Day.
"We accept flags for disposal when anyone feels that they're unserviceable," Ely said.
SUBMIT FEEDBACK
Click Below to:
More like this story