Is it the end for Route 66? Preservation money set to expire in 2019
By Scott Orr, Special to the Williams-Grand Canyon News
Originally Published: June 13, 2017 12:15 p.m.
WILLIAMS, Ariz. — Route 66, the 2,500-mile Mother Road that linked Chicago to California from 1926 until the 1960s, along with its once-thriving businesses, stands to lose millions of federal preservation dollars if the highway is cut from a National Park Service program.
The federal law that authorizes the Route 66 Corridor Preservation Program, passed in 1999, is set to expire in 2019.
The highway was the subject of a popular song, "(Get Your Kicks on) Route 66," written by Bobby Troup, as well as a 1960s-era television series.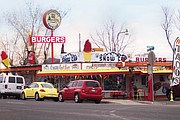 But as the march of the Interstate highway system reached the states where Route 66 had ruled, the towns and businesses dependent on the ability for drivers to stop anywhere on Route 66 found themselves bypassed by a limited-access roadway and its drivers, who had no time to stop for a cup of coffee or a souvenir.
By 1985, the highway was officially decommissioned and began to disappear from maps.
The Route 66 Corridor Preservation Program is credited with helping to bring back to life some of the forgotten landmarks along the route.
But in the current political climate, many lawmakers from states connected by Route 66 fear the bill's funding — and many historic landmarks — will go away when the bill expires.
Rep. Darin LaHood (R-Illinois), has, with 12 bipartisan co-sponsors, submitted a bill that would designate Route 66 as a National Historic Trail.
Those sponsors do not include any congress members from Arizona, although 400 miles of the highway traverse the state.
Rep. Paul Gosar was out of the office and unavailable for comment, according to his communications director, Kelly Roberson.
Preservationists fear that small towns along Route 66's path will miss out on much-needed investment if the funding program is not extended or if the route does not get the historic trail designation.
The uncertainty comes as the Trump administration is proposing deep cuts to domestic spending and various agencies.
The Route 66 Corridor Preservation Program began as an effort to save aging landmarks and dilapidated structures, has given out $2 million for nearly 150 projects and has generated another $3.3 million in matching funds, said Kaisa Barthuli, program manager for the Route 66 Corridor Preservation Program.
The program has helped fund projects such as repairing the roof of the historic Navajo County Courthouse in Holbrook, built in 1898, which received a $7,000 grant in 2016.
Some other Arizona recipients include:
The Historical L Motel rehabilitation in Flagstaff;
Historic Seligman Sundries' roof replacement;
The Rialto Theater rehabilitation in Winslow;
Route 66 rest area interpretive project near Flagstaff;
Route 66 Motel sign and roof rehabilitation in Kingman;
Colors of the West shop rehabilitation in Williams;
Valentine Diner rehabilitation in Winslow;
Frontier Motel & Restaurant neon sign restoration in Truxton;
Wigwam Motel preservation in Holbrook
Old Trails Garage roof replacement in Kingman;
Hill Top Motel heating and ventilation rehabilitation in Kingman and
Joe & Aggie's Café rehabilitation in Holbrook.
In all, Barthuli said, projects in Arizona have received $230,000 in grant funds and have generated an additional $318,000 in matching private funds.
SUBMIT FEEDBACK
Click Below to:
More like this story