Bearizona debuts bears, otters and bighorn sheep lambs for summer

Originally Published: June 13, 2017 11:50 a.m.
WILLIAMS, Ariz. — With a new jaguar exhibit last year and the completion of the Canyonlands Restaurant this spring, Bearizona visitation is up as the summer season gets into full swing.
The wildlife park has added several new animals and are continually adding more as the park expands exhibits to accommodate these additions.
"We have recently fixed up the beaver habitat," said head trainer Dave O'Connell. "We have four beavers now. We just put them in yesterday for the first time."
O'Connell said the park is planning to introduce reindeer to an exhibit this fall.
"They'll have plenty of places to roam, they will be a perfect addition," he said. "It's very exciting all the changes we have planned. It can be overwhelming at times because there are so many projects."
O'Connell said the biggest animal project the park is working on is a new otter exhibit that should debut in late summer.
"We have them in the old raccoon exhibit right now," he said. "We want to build a real otter exhibit, so we can get our raccoons back in there. It should be really nice."
Because of encroachment of the human population, O'Connell said there are many otters that are being relocated and rescued in Arizona.
"We have a rescue otter named Juan," he said. "He was getting fed a lot. It started with people feeding him Cheetos and then he started chasing people around to get the Cheetos. People think they are cute, but they are actually related to weasels, badgers, and skunks, so they can be nasty little animals sometimes."
O'Connell said Arizona Game and Fish Department (AZGFD) attempts to relocate the otters if possible, but the animals often find their way back to their original home.
"They're smart and they come back and now they associate people with Cheetos," he said.
The park also recently debuted three newborn Bighorn Sheep. O'Connell said the sheep are on loan and will stay in the park until they mature.
"We don't own the Bighorn, but they breed well here which helps keep a healthy population," he said.

Bearizona recently made news with the relocation of a nuisance bear from Tucson named Lemmon.
On Aug. 26, the AZGFD captured the small black bear on Mt. Lemmon when it was determined it was posing a public safety risk. The bear had lost its fear of people and was sighted on Mt. Lemmon eight times since May. The bear reportedly followed hikers, tried to get into homes, was spotted salvaging through trash cans and had no fear of humans. In cases like this, usually the bear would be euthanized O'Connell said.
AZGFD reached out to Bearizona, who was willing to accept the bear to their facility.
O'Connell said when the situation is right, Bearizona works with Game and Fish to take in wild bears.
In the 10 months since Bearizona acquired Lemmon, the bear has gone through a process of getting acclimated to the park.
"When an animal first gets here we go through at least a 30-day quarantine we make sure they're healthy without any diseases they could transfer to our bears," O'Connell said.
After the quarantine, the animal is kept separated from the other bears but is placed in an adjoining area where the bear can see and smell the other bears.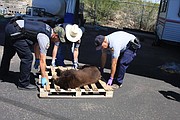 "Lemmon took a little bit longer, but there's nothing wrong with that," O'Connell said. "We want to make sure Lemmon is comfortable with things. We were slow with the introductions. She got to see her enclosure mates, they got to meet through the fences.
O'Connell said the trainers observed Lemmon and how she interacted with the bears through the fence.
"Once we saw her playing with the bears through the fence, that was a good sign because they are being friendly," O'Connel said. "We're seeing nice behavior. We can then take our chance and put her out there because she's got friends. They were licking each other through the fence."
According to O'Connell, the park takes in rescue bears because of the opportunity it allows for public education on safely interacting with wildlife and the effects litter and other trash have on wild animals.
O'Connell said one of the reasons for having Lemmon at Bearizona was that the park could use the opportunity to educate the public about what to do when there is a bear in the neighborhood. He said people can see first-hand that it is important to keep things clean and packed up when camping, and the importance of not feeding wildlife.
"We are not just taking bears out of the wild to house them and show them off. It's important to educate the public about what's going on," he said.
SUBMIT FEEDBACK
Click Below to:
More like this story