Newspaper family contribution supports Williams' Arizona Railroad Heritage Park
Originally Published: July 25, 2017 1:25 p.m.
With the help of a donation from the Soldwedel family, who own many news outlets in northern Arizona, the Arizona Railroad Heritage Park, a 21-acre railroad park in Williams is setting its sights on a grand opening in the spring of 2019.
The park, which will encompass the Arizona State Railroad Museum and Arizona Northern Railway in a family-oriented campus off Rodeo Road, will operate under the umbrella of a nonprofit foundation.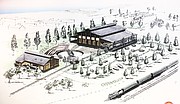 The park will be oriented toward informal learning and family entertainment. The pro-posed museum will include interactive environments throughout the 106,000 square-foot museum. Visitors will hear the stories of the men and women who built, ran and maintained Arizona's railroads and how their efforts helped shape Arizona as a contributor to the nation.
The foundation hopes the park-like atmosphere of the site will welcome all audiences to engage in a unique learning experience. The railway will provide visitors with a real life railroad experience on vintage railroad equipment and behind a fireless steam locomotive that served the Apache Power Plant in Benson. All of this will celebrate the cultural and ethnic diversity behind Arizona's seventy-eight railroads.
"Co-located with the Grand Canyon Railway, the project has prospered due to this partnership," said Al Richmond, project founder and CEO in an interview earlier this year. "The Park will celebrate Grand Canyon Railway's 100-year legacy of rail service to Grand Canyon National Park. These venues, along with Bearizona, will cooperate on events that will help to make Williams a more attractive destination for families to visit."
In addition to locomotives and variety of rolling stock — some over 100 years old — interactive exhibits of surveying equipment, railroad, logging and mining artifacts, simulators, a large model layout, toy trains and signal equipment will educate and entertain both young and old.
For the serious historian and interested visitor, the David F. Myrick Archive will house many collections of historic documents, engineering drawings, photographs, publications and books. These growing collections currently number in excess of 250,000 items
The park has long been the beneficiary of contributions from collectors and generous donors who have enabled its vision to move forward.
"I had spoken with her (Luda) maybe about three years ago, after her husband died and she had a bunch of railroad books — he (Don) was interested in railroads," Richmond said. "She wanted to pass on some of the things that he had and we were just absolutely happy to receive more books and things from his collection."
Richmond said he was blown away when he was notified of one recent planned donation — a gift of about $142,000 — from the Soldwedel Charitable Trust. The Soldwedel family bought The Daily Courier in 1958 and today owns many news outlets in northern Arizona including the Williams-Grand Canyon News.
At the moment the park is in the process of finalizing their construction financing. Richmond said the donation by the family is currently in the bank and will be used in a timely manner for the right project to advance the park.
"It helps us in a myriad of ways," he said. "It was totally unexpected. We are not in a rush to spend this new (funding) but we will utilize it for real good purposes when the time is right. We're just not going to spend it haphazardly. At the moment, we've set it aside and are waiting on that day."
SUBMIT FEEDBACK
Click Below to:
More like this story