How the leopard (frog) lost its spot
Once rich in numbers, the northern leopard frog is facing possible extinction in the western United States.
Originally Published: July 18, 2017 10:03 a.m.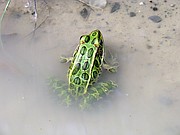 Once widely distributed throughout the United States and Canada and often found on high school biology dissection trays, the northern leopard frog (Lithobates pipiens) is facing a rapid decline in population in Arizona and other western states.
This quiet, camouflaged frog is not easily noticed, but as both predator and prey it makes up an important part of the ecosystem in Arizona.
In an effort to help restore the population, wildlife biologists from Kaibab National Forest have recently teamed with the Arizona Game and Fish Department (AZGFD) and the U.S. Fish and Wildlife Service to create a specialized northern leopard frog habitat on the Williams Ranger District.
The proposed project, called the Clover Pond Wildlife Viewing Area, would be located in an upland area north of the Williams Ranger District office on South Clover Road. The pond would incorporate a specific habitat for northern leopard frogs, a pollinator garden to attract pollinator species such as the monarch butterfly, an ADA accessible trail, benches and interpretive signs.
"The components of this project, the pond, the pollinator garden the ADA trail, are all unique opportunities for people in Williams to experience," said Kaibab National Forest Wildlife Biologist Justin Schofer. "We also hope to structure programs with the schools and discuss issues with our waters and what is affecting the northern leopard frog."
About the northern leopard frog
Northern leopard frogs are named for the array of irregularly shaped dark spots scattered across their backs and legs. The frogs are greenish-brown in color with a pearly white underside and light colored ridges along their backs. Their torso is 3-5 inches long.
Northern leopard frogs were once the most abundant and widespread frog species in North America. They were so common, they were often collected and studied in anatomy classes and eaten in the food industry (frog legs) as well.
The frogs are found in most of northern North America, especially near ponds and marshes and occasionally dense grasslands. They use both ambush and active foraging techniques to take a wide variety of prey. Adult frogs eat insect larvae, bugs, beetles, flies, moths, worms, leeches, snails and slugs. They have been known to eat their own species. Tadpoles are herbivores that use their scraping mouthparts to feed on algae, rotting vegetation, and detritus.
A disappearing species
The decline in the population of the frog began in the 1970s, which scientists attributed to pollution, deforestation, encroachment, invasive species and disease.
The northern leopard frog was considered for listing as an endangered species in 2006, but officials believed it was not warranted because the frog was still prolific in many northern states and Canada. However, scientists are still concerned about the population decline in the Southwest, where a subspecies of the northern leopard frog was identified.
Though not listed as an endangered or threatened species, the southwestern Regional Forester identified the northern leopard frog as a Forest Service Sensitive Species.
According to Schofer, the northern leopard frog has been extirpated in Kaibab National Forest.
"We know of just three populations in Arizona of southwestern haplotype northern leopard frogs," Schofer said about the disappearance of the frog.
One of the biggest threats to northern leopard frogs in Arizona is the bullfrog, crayfish and a fungal pathogen known as Chytridiomycosis or Chytrid fungus.
Wildlife managers in the state are taking steps to revitalize the northern leopard frog and have created several special reserves or refugia to eliminate these threats.
A protected habitat
In that tradition, AZGFD approached wildlife biologists on the Kaibab about creating a special habitat in Williams.
"They said they would be very interested in making this project a go," Schofer said. "They purchased a pond liner and the forest service will be providing the rest of the materials and labor."
Schofer said the pond will be tailored specifically for northern leopard frogs and will be highly controlled. It will be approximately 120 to 160 feet in diameter, with an average depth of five feet. The pond will have a liner and be stabilized by clay. Water for the pond will come from two runoff inlets and be supplemented by water hauled in by trucks. There will be an outlet that will allow overflow into drainages leading to Cataract Lake.
Specially designed barriers will be installed to protect the northern leopard frogs from certain outside elements. Along with this, there will be an outer boundary fence to keep big game from entering the pond area. Two aerators will be installed and native aquatic vegetation will be introduced. Northern leopard frog egg masses will be translocated from other breeding populations.
If the project is approved, construction of the wildlife viewing area could begin as early as October of this year.
So why care about one little frog?
According to biological diversity.org, the world is losing one to five species per year. Scientists believe over 1,000 species have gone extinct in the last 500 years.

Unlike past extinctions, which were mainly caused by natural phenomena, 99 percent of currently threatened species are at risk because of human activity such as encroachment, exploitation of resources, pollution, invasive species and climate change.

Scientists believe biodiversity is the lifeblood for human existence. Each species performs a particular function within an ecosystem. Healthy ecosystems purify air, filter water, create fertile soil, reduce flooding, breakdown waste, recycle nutrients and provide natural resources.
Biodiversity is also important for health, as most traditional and modern medicines derive their ingredients from plant extracts. The loss of plant diversity could potentially limit future medical cures.
Genetic diversity is important for food systems and is the foundation for healthy crop development. It provides plants resistance to pests and livestock resistance to disease.
Biodiversity is often seen as a mirror of human relationships with other living species, and the reduction in population of a species is often seen as a wake-up call.
The Clover Pond Wildlife Habitat Project Proposed Action is available on the Kaibab National Forest website at www.fs.usda.gov/project/?project=51795. Members of the public are invited to provide their comments through Aug. 21. To submit e-comments, please email comments-southwestern-kaibab-williams@fs.fed.us. For hard copy mailed or hand delivered comments, please deliver them to the Williams Ranger District office at 742 S. Clover Road, Williams, AZ 86046 during office hours Monday through Friday 8 a.m. to 4:30 p.m. For more information on the project, please contact Travis Largent, wildlife biologist, at (928) 635-5600
More like this story
SUBMIT FEEDBACK
Click Below to: