"The Amazing Kolb Brothers of Grand Canyon" celebrates adventuring photographers
Originally Published: July 11, 2017 10:56 a.m.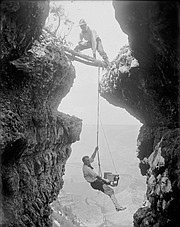 GRAND CANYON, Ariz. — Ellsworth Kolb arrived at Grand Canyon in 1901 with younger brother Emery Kolb soon following. Pioneers in the fledgling tourism industry, they set up a tent at the head of the Bright Angel Trail and began photographing tourists as they clip-clopped into the canyon on muleback. For nearly eight decades, these intrepid brothers explored and photographed Grand Canyon from rim to river.
In his newest book, "The Amazing Kolb Brothers of Grand Canyon" Roger Naylor captures the essence of the brother's adventures.
The brothers are known for dangling from ropes, clinging to sheer cliff walls by their fingertips, climbing virtually inaccessible summits, running seemingly impassable white-water rapids, braving the elements and venturing into unknown wilderness — all for the sake of a photo. Well, a photo and a thrill. Sometimes it was hard to tell which was more important, Naylor says.  
Along the way, the Kolb's made the longest-running motion picture in American history and built a studio that has become a Grand Canyon icon. 
It took Naylor five months to write the book, having spent several days at the Cline Library at Northern Arizona University, researching and working his way through archived photos, telegrams, letters and sales receipts.
"Emery Kolb was quite the pack rat, he sort of saved everything. After he passed the family donated all that stuff to the Cline Library and they've done a remarkable job of preserving it and setting it aside," Naylor said. "It was a really remarkable story and was just really fun to follow along with it."
Much more than a typical dry history, the rambunctious Kolb boys leap off the pages in this engaging read.
Naylor captured the legacy left by the brothers and hopes readers will take away the unforgettable stories, photographs and indelible mark left on history by the brothers.
"I really want to let people know about these guys. I think that unfortunately we are a very forward looking society and sometimes we kind of lose track of our history," he said. "I'm afraid that's becoming more so today and these guys were really important people in Arizona history. I want to remind my readers of their legacy — the importance and significance of their legacy."
While researching the brothers, Naylor said he was inspired by the Kolb's daring lives and their ability to live a full, well-lived life. He hopes readers will find some of the same inspiration he did.
"These guys were willing to take risks, they were willing to take chances, to chase their dreams, to follow their inspiration and their passion," he said.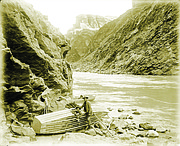 Despite a lot of obstacles, they persevered and Kolb Studio still stands. I hope the story also inspires people to live that kind of life. Live a life that's passionate — to live well.
Published by the Grand Canyon Association, the 154-page book is packed with drama, perils, feuds, near-death experiences, a cast of the canyon's most colorful residents and 190 of the famous Kolb photographs. This is an adventure story you must read to believe.
Naylor is one of Arizona's premier travel writers. He hikes regularly at the Canyon, camping overnight in its depths and traversing its many trails. His work appears weekly in the Arizona Republic. He has contributed to USA Today, Arizona Highways, Western Art & Architecture, Go Escape, Route 66 Magazine, Sedona Magazine and dozens of others. He is the author of several books, including "Boots & Burgers: An Arizona Handbook for Hungry Hikers," "Arizona Kicks on Route 66" and "Death Valley: Hottest Place on Earth."
"The Amazing Kolb Brothers of Grand Canyon" is available at bookstores and gift shops in Grand Canyon National Park and throughout the state. Autographed copies can also be purchased from Naylor at his website www.rogernaylor.com.
Naylor will give a book talk at Riordan Mansion in Flagstaff Aug. 14. He will also speak at Changing Hands Bookstore, 300 W. Camelback Road in Phoenix Aug. 8 at 7 p.m., at Peregrine Book Company 219 N. Cortez Street in Prescott Aug. 19 at 2 p.m. and at Red Pueblo Museum, 900 N. Main Street in Fredonia, Aug. 25 at 6 p.m.
SUBMIT FEEDBACK
Click Below to:
More like this story