Suspected arsonist allegedly shoots at fire official
Originally Published: July 6, 2017 9:23 a.m.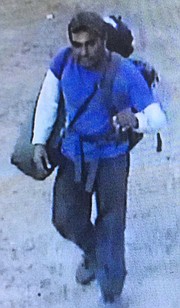 Coconino County Sheriff's Office (CCSO) is searching for the suspect in a shooting in the Forest Lakes area of Apache-Sitgreaves National Forest. Canyon Point Campground has been evacuated and Code Red has been used for notification of citizens in the Forest Lakes area. There currently is a two-mile radius closure of the area including a 2000-foot air space closure.

On July 3, at approximately 6 p.m., CCSO and the U.S. Forest Service responded to eight small brush fires in an area known as Pond Circle in Forest Lakes, AZ. Residents reported seeing a dark complexion male wearing a royal blue shirt, with a long sleeve white shirt underneath in the area. Personnel in the area attempted to locate the possible suspect.
On July 4, around 10:20 a.m., a forest service employee was checking the area approximately one-fourth of a mile south of Canyon Point Campground when he came across an individual matching the description from the fires. The suspect pulled a handgun on the forest service employee. As the employee was trying to back away, the suspect fired several rounds at him. As the employee ran to his truck, the suspect fired additional rounds at him using a shotgun. The forest service employee was not injured and was able to escape the area and call law enforcement.
Coconino County Sheriff's Office is actively looking for the suspect. Other agencies assisting include Arizona Department of Public Safety SWAT and Air Ranger, FBI SWAT, Gila County Sheriff's Office, Forest Service fire and law enforcement personnel, Forest Lakes Fire Department, Arizona Game and Fish, White Mountain Apache Police Department, and Navajo County Sheriff's Office.
Anyone with information about this crime or suspect is encouraged to call 911 or Silent Witness at (928) 774-6111 or CCSO at (928)226-5089. The suspect is considered armed and dangerous.

SUBMIT FEEDBACK
Click Below to: