Homework Club's a hit at Williams Elementary School

Originally Published: January 31, 2017 2:33 p.m.
WILLIAMS, Ariz. — The bell rings and students at Williams Elementary-Middle School stream down the halls and head toward the waiting buses or to the gym for after school sports, but a large group of students also gathers in the school cafeteria to begin their homework.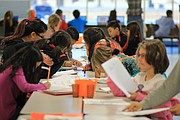 The students are taking advantage of a new program at the school called Homework Club. Homework Club is the brainchild of Monica Moreno, Ronda Fairlie and Nicole Gay. The three volunteers are also parents of children at the school.
"They need it," Moreno said. "My own kids need it. I have four kids in the school and we had nights where we were up until 10 or 11 at night doing homework, and that just doesn't work."
Moreno and Fairlie approached WEMS Principal Carissa Morrison about the idea in November of last year.
"It's amazing," Morrison said. "This was the idea of the parents and staff. They just came to me and said 'We can do this.'"
The Homework Club meets every Monday and Wednesday from 3:45 to 5:30 p.m. After the students arrive, the volunteers help the students get settled by playing a game. This is followed by a snack supplied by the food services department.
"We're grateful that Chris Sanders, our food services coordinator, was able to secure snacks for all the students," Morrison said.
After the snack, students get down to the business of doing their homework. Several parents and staff members donate their time to help the students.
"This is a good opportunity for students to get help from each other and from the handful of adults who are circulating to keep them on task with their homework," Morrison said.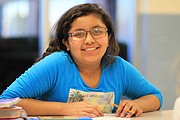 Morrison said the program helps those students who have a long bus ride or may not have a parent home right away.
"It gives them an environment where they can focus on their work," she said. "It's also fun and has a social component."
Morrison said money acquired through last year's state tax credit donations was used to supply educational materials such as flash cards, games and software for the club.
Arizona tax law allows taxpayers a tax credit if they contribute to extracurricular activities in public schools. The tax credit is a dollar-for-dollar deduction of the actual owed tax. The credit allows an Arizona taxpayer to contribute $200 per individual tax return or $400 per joint tax return to a school's extracurricular programs.
Morrison said the Homework Club has filled a need for an after school educational program.
"If we had gotten the 21st Century grant, this program would obviously be more fully developed with funding, but our volunteers are making it work," Morrison said.
Morrison said she has not formally surveyed teachers and parents, but so far has gotten positive feedback from them.
"It is pretty popular," Moreno said. "We are getting close to 50 or 60 kids each day."
Fairlie believes that most students are getting all of their work done before they leave for the day. She said having the program on two days each week allows the volunteers to help the students with work that is collected on Thursdays.
"A lot of the grades have spelling packs and we are able to knock those out and the parents don't have to stress," she said.
Fifth grade student Mariana Hernandez says she likes going to the Homework Club.
"I like doing homework with my friends," she said. "It also gives me more free time at home. I like to get ready for school the next day and not be rushed."
Morrison said she is hoping more volunteers come forward to help with the program.
"I am amazed at what they are doing," she said. "We just need more volunteers. They don't have to commit to all the time. We just need people who want to help out so we can sustain it through the end of the year. It's a good program and we want to make sure it keeps going."
SUBMIT FEEDBACK
Click Below to:
More like this story