Grand Canyon's Lady Phantoms win eight straight, head for rematch with Mogollon

Originally Published: January 24, 2017 11:57 a.m.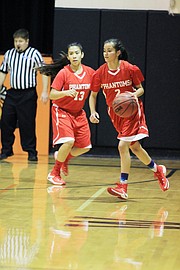 GRAND CANYON, Ariz. — Dec. 16, 2016. That was the last loss recorded for the Lady Phantoms, and it was a heartbreaker: Mogollon 42, Grand Canyon 40. Since then, the Lady Phantoms are undefeated, climbing to a 9-2 regional conference record with wins over Ash Fork, Cibeque, Joseph City, Mayer, Seligman and Williams. Grand Canyon is currently the third seed in the Central region and is ranked eighth overall out of 37 teams in the AIA 1A conference.
"It's been a long time since we've been this far," said head coach Rosie Evans, who is in her first year with the Phantoms. "They're so excited, they check the leaderboards and standings after every game to see their improvement."
The Lady Phantoms lost both regional conference games — back-to-back December contests against Cibecue and Mogollon — by a total of 10 points. Still, the young team played strong games, said Evans, and they are looking forward to evening the score. The Lady Phantoms have already checked Cibecue off the list, defeating the Wildcats 53-43 Jan. 13. They'll meet Mogollon for a Homecoming matchup Friday at 6 p.m.
"This time will be different," Evans said. "We'll be at home, we'll have the support of the crowd."
For some of the players, the Phantoms' record run is both an amazing beginning and end. Evans pointed out that this year's team is young, with only three seniors, and several players who have had no experience playing at the varsity level before.
"I told the team it would take around four years to build a competitive program," said Evans, who returned to coaching Grand Canyon after teaching abroad in Europe for several years. "They've played so well, I think the next four years are really promising. A lot of young players are only going to get better."
Phantoms seniors Mariela Montano, Valeria Romero and Candy Lopez are hoping to end the season on a high note, with a deep run into the playoffs, and perhaps even the state tournament in Phoenix.
For others, like freshman point guard Cayli Miles, this season is only the beginning of a promising career. With 7.9 steals per game, Miles is at the top of the leaderboards for all six AIA conferences. In 1A conference standings, Miles still leads in steals, and is in the top 10 for field goals, assists, scoring and double-doubles.
Melisha Jetter-Nanacasia, a junior forward, is also on the 1A leaderboard for scoring, field goals and steals. Romero made the top 10 in defensive categories for blocks (1.4 per game) and rebounds (8.3 per game).
There are only three games left in the regular season — Friday's game against number one conference seed Mogollon, a non-conference game against Shonto Prep Jan. 31 and a Feb. 3 contest against Seligman, who offered little resistance to the Phantoms in their last meeting, falling 58-4.
The Phantoms (9-2) are currently third in the 1A central region behind Mogollon (9-0) and Cibecue (7-1), with the standings determined by regional losses.
The Phantoms could move up in the standings if they defeat Mogollon and Seligman in their remaining regional games, provided Cibecue loses at least two of their three remaining contests against Mogollon and Joseph City.
The only way the Phantoms could take the number one seed, after defeating both Mogollon and Seligman, is for Mogollon to lose at least two of its last four games — they play Cibecue twice, along with Williams and Ash Fork.
SUBMIT FEEDBACK
Click Below to:
More like this story