Featured artist: graphite pencil master Lisa Noble
Originally Published: January 24, 2017 12:16 p.m.
WILLIAMS, Ariz. — Lisa Noble is a familiar face to many in Williams. Noble is often seen around town and at the Williams schools where she is a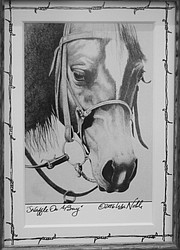 substitute teacher and volunteer mentor.
However, many people may not know that Noble has many other several other unique talents besides teaching.
Noble grew up cultivating a love for art and horses. As a child she spent hours drawing horses and people on her own at home.
"It's all I can remember as a little kid," Noble said. "I'd draw on all the furniture, underneath the counters."
Noble said she also recalls spending a lot of time in the car.
"I'd be in the foot well in the back seat and I would color the car," she said. "My parents never realized what I was doing until they went to trade it in and I had a masterpiece back there."
Noble is now a professional artist, but said she was primarily self-taught. She took some high school and college art classes, but developed her own style with graphite, colored pencil, and pen and ink.
"I'm curious. I like to try everything," she said. "I did whatever the teachers wanted us to do, but I found what I really liked was pencil. I was willing to try whatever the assignment was, but I always kept going back to pencil."
Noble mostly draws for the enjoyment of it, but began selling her art professionally a few years ago. She said her love of horses leads her to draw a lot of illustrations of horses, but she also draws other animals, people, cars, motorcycles or other passing interests.
"I've branched out into different things. I've even had people ask me to draw tattoos," she said. "Whatever interests me, I'll give it a shot, but I'll have to say that horses are where I lean."
Noble took a special interest in horses as a child, and that love led her to learn to ride and train horses as an adult.
"I don't know where they came from," she said. "I think my dad thought it was a passing fancy when I was a kid."
Following high school, Noble attended the University of Connecticut where she earned a bachelor's degree in Animal Science and played intercollegiate polo.
Upon graduation, she headed to Los Angeles, where she continued playing
polo and began working as a trainer. She rode rank horses that nobody else wanted to ride.
"I just found that I was good at it. But now that I've gotten older I realize I don't bounce as good," she joked.
Noble stopped competing and began training and grooming horses for professional polo players.
"I took care of their horses," Noble said. "I did high goal and low goal and worked for some super athletes. I did everything for the horses… training, grooming, hauling them to games. That was probably the best way I could spend my late teens, twenties and early thirties."
After many years working with horses, Noble started a family and stepped back from working full-time. She began spending more time at home and carving out time to work on her art.
"I still have some horses I go out and visit," Noble said. "I still love the horse life and everything about it, but you have to balance time. I have kids that are growing up and so that season of my life is over."
Noble found that substitute teaching gave her the flexibility of working, having time with her kids and room for her art.
"They (the kids) keep me busy," Noble said.
Noble has worked as a substitute teacher for 10 years and also spends a few hours each month working at the Gallery in Williams, where her art is on display.
"The thing that I like about being involved with the Gallery is the connection we keep with the schools," she said.
Noble spends two days each week volunteering as a leader at the Williams Unified School District (WUSD) Art Club.
"I love that connection the Gallery has with the schools," Noble said. "The kids are gearing up for Youth Art Month in March. We're always trying to keep kids involved with the Gallery."
Noble works with WUSD art teacher Sharon Potter in the Art Club. They offer the program on Mondays and Thursdays to accommodate students who are involved with other activities.
"We want students to be able to come whenever they can make it," Noble said. "We have a lot going on and are trying to get the kids ready for the art show in March."
Noble said the Art Club does a variety of art projects and they hope to eventually paint a large mural on the side of the Gallery in Williams building.
"We encourage the kids to work on whatever they are interested in," she said. "If' you've got something you want to learn, or if you're already working on something, pick our brains, that's why we're here."
More like this story
SUBMIT FEEDBACK
Click Below to: