Williams graduate lands promotion on Capitol Hill
Originally Published: January 17, 2017 1:42 p.m.
On Dec. 16, U.S. Congressman Paul A. Gosar (R) announced several senior staff roles in the Congressional Western Caucus and in his office. Among those was Trevor Pearson, who was promoted to serve as Chairman Gosar's new legislative director in his personal office.
"President Reagan once said, 'Surround yourself with the best people you can find, delegate authority, and don't interfere as long as the policy you've decided upon is being carried out.' I couldn't be more proud of the team we have put together to lead and deliver on Western priorities. We have high expectations and will hit the ground running. Rest assured, the Congressional Western Caucus will be a force in the 115th Congress," Gosar said.
Pearson grew up in Williams. His brother Chase Pearson is fire chief of the Williams Fire Department. Pearson said he and the Pearson family are excited for Trevor and his future on Capitol Hill.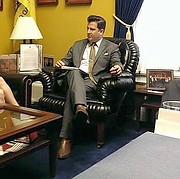 "We are excited. I think it's pretty special for him to work with an Arizona congressman," Chase Pearson said. "He is very excited to be working with the congressman and in D.C. He still hasn't decided whether he'll run for political office himself or move into the private sector."
The Pearson family has a long family history in Arizona, starting with the Randall and Fuller families who came to Pine, Arizona in the 1880s. The families have managed ranches in northern Arizona since that time, from Winslow to Seligman. Chase and Trevor's father, Jim Pearson, were born in Williams in 1943 at the hospital that is now the Farmer Bureau Insurance office. His dad, Ed Pearson, worked road construction throughout Arizona. Ed Pearson's wife, Helen Pearson, worked for the court house and also the Williams News for over 20 years. Helen was a part of the Republican Women Organization and wrote many letters to Arizona Congressmen, among others. She made sure all of the boys registered for selective service and to vote. She has letters from Barry Goldwater, John McCain, President Reagan and George H. W. Bush. Chase said she was very influential in Trevor's politics.
Chase and Trevor were two of eight siblings who all grew up and attended school in Williams.
"My parents and all of my brothers and sisters all graduated from Williams High School," Chase said.
According to Chase, his brother was always interested in politics.
"I think part of that came from him being the baby of the family, he was looking for a way to be the boss," Chase said. "He was a member of student council from grade school through college. He knew pretty early on what he wanted to do."
Trevor started as an intern in Gosar's office and has worked in the congressman's office for several years.
Trevor continues to meet with Williams city officials when he is in town. According to Chase, in 2016, a meeting was called with operators, forest service officials and congressional leaders in D.C about the 4FRI (Four Forest Restoration Initiative) project. In that meeting, Chase said groups attempted to blame the city of Williams for lack of progress.
"Trevor was in the meeting and having just met with Mayor Moore, he was able to dispel these rumors and add that the city had been working very hard to make this project a reality," Chase said in an email. "Just this past December, Trevor met with the city manager about water issues. There are several water rights agreements going through Congress. Trevor has been able to take back issues that concern Williams and influence the legislation.
Trevor currently works in Gosar's office in Washington D.C. After Gosar's recent election to chairman of the Western States Caucus, Gosar made several staff changes and promoted Pearson.

Trevor previously served as Gosar's senior legislative assistant, managing his Oversight and Government Reform Committee and Interior Subcommittee portfolio. He has also managed healthcare, defense, transportation and infrastructure and other legislative issues. Trevor graduated from Brigham Young University-Idaho with a bachelor's degree in political science-foreign affairs. He attended graduate school in Saint Petersburg, Russia where he earned a master's degree in Russian and Eurasian studies with an emphasis in energy security from European University at Saint Petersburg.
Gosar is serving his third term in Congress as the Representative from Arizona's Fourth Congressional District. He was first elected in 2010 and went to Congress with no prior political experience.
He has focused his legislative work on natural resources issues and government accountability. Both areas stem from his work on the House Committee on Natural Resources and the House Committee on Oversight and Government Reform. Gosar is vice-chairman of the Natural Resources Water, Power and Oceans Subcommittee and vice-chairman of the Congressional Western Caucus.
Before being elected to Congress in 2010, Gosar owned his own dental practice and was a small businessman in Flagstaff for 25 years.
SUBMIT FEEDBACK
Click Below to: