In Tusayan and Grand Canyon, wages rise, not worries
Cushioned by strong tourism economy, local businesses, school feel few effects from Prop. 206 — for now

Originally Published: January 10, 2017 11:20 a.m.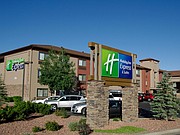 GRAND CANYON, Ariz. — The controversy surrounding Arizona's minimum wage increase isn't going away any time soon, with groups and individuals on both sides of the aisle predicting both a boon for the local economy and a burden on business owners.
Overwhelmingly passed by voters last November, Prop. 206 raised the state's minimum wage 24 percent from $8.05 to $10 an hour Jan. 1, 2017 and requires businesses to provide paid sick time for all employees beginning July 1. Various business owners and the groups representing them are divided on what the increase will mean for small, local businesses.
The largest driver of employment in the area is Grand Canyon National Park and its contractors —Delaware North, Xanterra Parks and Resorts and the National Park Service. Federal employees like those working for the NPS are exempt from the wage increase, and entities that operate within the national park are considered federal contractors and are subject to special employment laws and regulations.
Kathleen Akan, human resources director for Xanterra's Grand Canyon lodges, said the company already made changes last year because of a federal executive order mandating a current wage of $10.20 per hour for federal contractors. Akan said the company might feel the effects of subsequent increases over the next three years, but the company will continue to hire at its current level, or more.
"The bottom line here is visitation is strong — the Grand Canyon had 6 million visitors this year," she said. "We aren't going to slow down on hiring, we have to have people here to take care of our guests. The economy is strong and people are traveling."
The Tusayan and Grand Canyon business communities don't appear to be suffering from fear of the unknown — the dire predictions of shuttered businesses, cash-crunched employers and jobless former employees are nowhere to be found.
Laura Chastain, director of the Grand Canyon Chamber of Commerce, said most businesses in Tusayan are already paying the new minimum wage of $10 per hour or more to compete with the national park and school district for employees. Since most of the businesses operate with their payroll as a percentage of revenue, she explained, not much is going to happen until that ratio gets skewed.
"Most of the local businesses aren't completely sure how the wage hike is going to affect them yet," she said, noting that the pinch probably won't be felt until the incremental increases hit, pushing the minimum wage to $12 over the next three years.
"Could prices go up? Certainly," Chastain said. "They may have to cut labor or increase prices to keep their operating ratios."
While an eleventh-hour attempt by local and state business groups failed to prevent the increase from being implemented, legal challenges to Prop. 206 are likely to continue.
Both the Maricopa County Superior Court and the Arizona Supreme Court declined without comment to postpone Prop. 206 after the Greater Arizona Chamber of Commerce and Industry, Tucson Hispanic Chamber of Commerce, Greater Flagstaff Chamber of Commerce, Arizona Licensed Beverage Association and Valle Luna restaurant employees sought to delay its implementation on grounds that it is unconstitutional.
The plaintiffs allege that the issues of sick time and an increase in wages should have been two separate ballot issues instead of being combined; they also argued that the law violates the state constitution by requiring the state to pay out more money without identifying a revenue source for those payments. Both courts, in refusing to grant the injunction, ruled the issues (wage increase and employee sick leave) were inextricably linked and that, since state employees were exempt from the new wage increase, identifying a revenue source was unnecessary.
The legal wrangling over Prop. 206, however, is far from over. The Arizona Supreme Court agreed to take up arguments about the law's constitutionality later this year, as soon as February.
School districts are predicted to be hit hardest by the new increase, according to Diane Douglas, the state superintendent of public instruction. In a recent interview with Arizona Week host Lorraine Rivera, Douglas explained that schools rely strongly on federal funding, but are not exempt from the increase like other federal agencies and contractors. That affects what schools must pay non-teachers and administrators, like maintenance workers, cafeteria workers and classroom aides.
Superintendent Shonny Bria, however, said the Grand Canyon Unified School District won't be facing any budget shortfalls because of the increase, noting that only a single employee is currently being paid less than $10 per hour, and would have been making $10 per hour anyway within a month or so because of a six-month raise.
According to Matt Yost, Bria's assistant, the increase also isn't likely to have a large impact in the future, either.
"Grand Canyon National Park pays $10 an hour, and we have to offer at least that much to play ball and compete for employees," Yost said. "Our classroom aides and other non-teaching employees already start at $11 per hour, minimum."
In the meantime, business plans in Tusayan and Grand Canyon haven't changed much. A glance at community message boards and classified ads indicates that hotels are looking for everything from cooks to housekeepers, and a "Now Hiring" sign is prominently displayed in the front window of the local Wendy's restaurant.
The chamber, which hosted a FAM tour of the area's employment and housing opportunities for staffing and human resources representatives, is currently planning for more tours this spring, Chastain said.
SUBMIT FEEDBACK
Click Below to: