Mountain lion tracks, remains of small dog found at Williams residence
Arizona Game and Fish asking residents to take pets inside at night, report lion activity
Originally Published: January 10, 2017 11:12 a.m.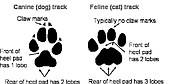 WILLIAMS, Ariz. —Arizona Game and Fish Department (AZGFD) is asking Williams residents to take pets inside at night and to keep yards free of hiding places after a small dog was killed by a mountain lion Dec. 27.
"If you have small or older pets that can't escape very easily, bring them inside at night because that's when a mountain lion is most active," said Will Lemon, a wildlife manager with Arizona Game and Fish.
On the evening of Dec. 27 Williams Police Department (WPD) and animal control received a call from a residence on the corner of Tabor and Grant on the southeast side of Williams. The home owners had returned to discover that one of their dogs had been killed and partially eaten by a mountain lion. Game and Fish later confirmed the paw prints left in the yard were made by a mountain lion and said the prints measured about 4 inches in width.
Williams Animal Control Officer Leah Payne said the dog was taken sometime between 5 and 8 p.m.
"If there is a sighting we are encouraging people to call either the police department or Game and Fish and just let them know what's going on and where they saw it and the time," she said. "It was a fairly plump Chihuahua that was taken. If (the lion) sees a human it is probably going to run off. It is not going to attack you unless you surprise it or catch it off guard."
According to Game and Fish, when people surprise or catch lions off guard they will typically run away. The department said attacks may happen because of movement - if someone looks like prey. They could also occur if a lion is protecting its young, if the lion is sick or unhealthy, if its habitat/prey conditions are poor or if the lion is acting abnormally because of lack of food. In cases like that, Game and Fish said it is usually pets or other domestic animals that get taken and not an attack on humans. Additionally, lions are typically nocturnal which also attributes to the fact that not many people have seen or have encounters during daylight hours.
Payne said the pet owners were not home when the Chihuahua was killed.
"Her daughter had the dogs at her house while they were out of town for the holidays. Her daughter dropped the dogs off at the house between 4 and 5 p.m. And when they got home at 8 p.m. they found the dog deceased," she said.
The lion returned and laid down fresh prints Dec. 31. Williams police photographed the prints and sent it to Game and Fish.
"We are concerned and are not sure what the actions will be. We would rather see it relocated than shot," she said.
However, because of the minimal amount of open space away from humans and civilization that is available in Arizona, Game and Fish said they do not relocate lions.
Mountain lions are native to northern Arizona and have a range of around 100 — 150 miles. Adult male mountain lions can weigh between 170 — 190 pounds and females between 90-100 pounds.
From mid-2015 to Jan. 2017, Game and Fish received 20 different reports of mountain lion sightings or the presence of a mountain lion in the Williams area.
"Out of those 20, about 10 are confirmed and 10 unconfirmed," said Shelly Shepherd, information and education manager with Game and Fish.
Game and Fish are not certain if the mountain lion was the same one reported for all 20 incidents. Lemon said most of the reports have been near the outskirts of Williams with one report near the KOA on Highway 64, another near the Woods community southeast of Williams and another in Parks.
"A lot of times we don't even know they're there. They are very elusive animals, they're nocturnal, so often we wouldn't see them," Lemon said.
According to Lemon, mountain lions could be coming into town because of the availability and ease of preying on small or older pets or livestock.
He said the lion could be an older lion who can no longer hunt wild prey or possibly a younger lion who recently left it's mother's home range.
"One thing we've noticed is that most of these sightings have been on the outskirts of town," he said. "Mainly on the southeast portion of town. We don't think it's living inside the town."
Lemon said mountain lions could be attracted to water and other food sources near houses and are asking pet and home owners to take precautions to deter the lion from returning to town.
Game and Fish will monitor the lion's activity and any reports of print or lion sightings before deciding what action needs to be taken.
"If it reaches a level to where we deem it to have unacceptable behavior to where it could be considered a threat to human life, then we will kill the mountain lion," he said. "Human life will always be priority to us over animal life. But when an animal is displaying typical animal behavior – going in, taking smaller animals, currently we are not going to kill this lion, we are going to continue monitoring it and try to figure out its patterns."
Game and Fish are asking anyone who sights a mountain lion or its prints to report it to them and/or WPD immediately.
"We need people to call us right away," Shepherd said. "If we get those calls initially we can get out there quicker, we can make those calls to the homeowner, the pet owner and get going on whatever the next steps need to be. If they see a mountain lion right then I encourage them to call 911, but if they have a sighting and it runs away then call us, we have a 24/7 number or call Williams Police Department."
Precautions to take
Remove food and water sources. Eliminate places where a lion could hide — trim trees, close sheds, knock down debris or rock piles. Keep pets indoors. Stay with them at night when they are outdoors.
Have motion lights set up, remove attractants and keep livestock in enclosed areas like a chicken coop or in the barn.
"Make sure everything is super secure," Shepherd said.
If you encounter a lion, Shepherd said not to run and to make as much noise as possible and make yourself as large as you can. If the animal attacks she said the best thing to do is to fight back.
"The bigger and the louder you are is potentially going to scare that animal off. Most of the time when encountered by a person, that lion is going to run off," she said.
Game and Fish said if acting in self-defense you can use lethal force to protect yourself.
"This lion could be a dangerous animal and you should avoid the animal if you have the opportunity to. Do not try to pet the animal or feed the animal. Stay away from it and act big," Lemon said.
Game and Fish said it is helpful to identify a lion by its tracks which can be preserved with a picture or by placing a coffee or soup can over the track until Game and Fish can respond.
Anyone who sights a mountain lion should contact Game and Fish at (623) 236-7201 or the Williams Police Department at (928) 635-4421.
SUBMIT FEEDBACK
Click Below to:
More like this story