After seven tumultuous years, NPS Director Jon Jarvis retires

Originally Published: January 10, 2017 11:06 a.m.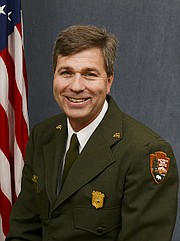 WASHINGTON — Jonathan Jarvis, who has served as director of the National Park Service for seven often tumultuous years, retired Jan. 3.
Jarvis graduated from the College of William and Mary with a degree in biology in 1975 and promptly began his NPS service the following year as a seasonal interpretive ranger at the National Mall in Washington, D.C. the following year. Jarvis subsequently served in a variety of roles, from resource management specialist to park biologist to superintendent. In 2009, Jarvis was serving as regional director of NPS' Pacific West region when President Barrack Obama tapped him to lead the agency.
Since then, Jarvis' run as director has been plagued by scandals and accusations that his stewardship of the NPS was considerably lacking. Revelations about sexual harassment scandals at Grand Canyon National Park and Cape Canaveral National Seashore and findings of a hostile, bully-infested work environment at Yosemite National Park led to the resignation of both parks' superintendents, Dave Uberuaga and Don Neubacher.
Lawmakers Rep. Jason Chaffetz (R-Utah) and Rep. Jody Hice (R-Georgia) called for Jarvis' resignation as a result of the Interior Department's findings. In a letter to President Obama, Rep. Hice noted that Jarvis " … failed to address numerous and pervasive sexual harassment and hostile work environment violations … " Chaffetz, the chairman of the House Committee on Oversight and Government Reform, echoed Hice's call for resignation or termination, claiming Jarvis did not take accusations of sexual misconduct seriously.
"He allowed it to fester," Chaffetz said in a July interview. "More than two dozen women at the Grand Canyon and Canaveral National Seashore have filed claims of harassment and not one perpetrator has been fired."
Jarvis was also officially reprimanded for ethics violations regarding a book he authored without the consent of the Interior Department's Ethics Office. An investigation by the Interior Department's Inspector General found that Jarvis intentionally skirted the office in obtaining the contract to write the book for one of NPS' associations, and lied to then-Interior Department secretary Michael Connor.
As punishment, Jarvis was removed from conducting any dealing with the Ethics Office for the remainder of his tenure, and was also ordered to receive monthly ethics training courses for his remaining time as director.
Jeff Ruch, executive director of Public Employees for Environmental Responsibility (PEER), believes the national parks will fare better now that Jarvis is out of the picture.
"By almost any measure, Jon Jarvis is the worst Park Service Director within living memory," he said. "In a misguided quest for 'relevancy,' Jarvis repeatedly sold out the very values and resources at the core of the Park Service mission."
According to the watchdog group, just a few of Jarvis' other transgressions (aside from the sexual harassment scandals and ethics violations) include allowing parks' maintenance backlog to grow to $12 billion, four times the NPS' annual operating budget; removing or obstructing safeguards to protect wildlife and habitats; allowing commercial intrusion and corporate interests into protected lands; and striving for higher visitation at parks already experiencing environmentally-damaging overcrowding.
According to PEER, park planning during Jarvis' tenure was abandoned, resulting in most major parks no longer having statutorily-required general management plans.
"Many of the adverse consequences from Jarvis' policies are yet to be fully realized but may be felt for generations unless reversed," added Ruch.
Michael Reynolds, who had been serving as deputy director of Operation for the National Park Service since Aug. 1, has been named acting director. Reynolds' background includes some much-needed human resources experience as NPS tries to change a culture that allowed sexual harassment to run unchecked.
Since 2014, Reynolds was NPS' associate director for Workforce, Relevancy, and Inclusion, overseeing the NPS' human capital, training, relevancy, youth, and recruitment programs nationwide. His leadership focus was on changing systems and processes for workforce and inclusion to have an employee-focused program ready to support the NPS and its people.
Reynolds is the third generation of his family to work for the NPS, growing up in Yosemite National Park. He earned a bachelor's degree in environmental studies from the University of California – Santa Barbara, and an MBA from Regis University in Denver. He was a senior executive Fellow at Harvard University in the spring of 2011.
Reynolds will continue as acting director until the incoming Trump administration formally fills the role.
SUBMIT FEEDBACK
Click Below to:
More like this story